VIVID 3D SPEAKERS
by
Six months after the review of the Vivid 3D Plus, a new product from Nu Reality caught our attention: the Vivid 3D Speakers.
Using the same technology as the Vivid 3D & Vivid 3D Plus (See Issue1 for the SRS technology), the Vivid 3D Speakers surround you with a three-dimensional sound using only two speakers!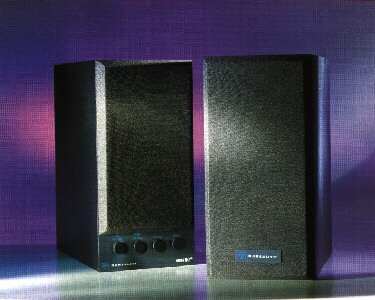 Without being too technical, this technology restores the original soundtrack that was lost during recording. The result is magical! When you close your eyes, it's virtually impossible to determine where the sounds are coming from. With stereo technology, one has to position themselves where both sounds (left & right) were focalising in order to feel the stereo effects. Now with the SRS technology you can forget everything you know about stereo sound. It's a whole new experience like Virtual Reality!


The speakers feature a wood enclosure which guarantee a better quality than standard so called 'multimedia speakers' traditionally made of plastic. The advantage is not only that you are granted a high-quality sound, but also visually wood always looks nicer when compared to plastic.
With 35 watts of total amplification, the speakers have nothing to envy of other multimedia speakers. When other manufacturers were increasing the total amplification of their product, Nu Reality searched instead to improve sound reproduction. The four Neo-radial speaker drivers featured in this product achieve excellent results with less distortion due to their proprietary magnetic technology.
These speakers can be used with any source of sound. You can connect them to your PC with any sound card, to your console (Sega, Nintendo, 3DO and others), and even to your TV. They come with everything necessary to connect them to any source and with a transformer, so that the only thing you really need is electricity!
As the speakers integrate the Vivid 3D Plus, you can expect to find the same controls used on the sole device. The first one, the volume control, does not require any additional explanation, but the center and space controls, both deserve some attention. The center control highlights parts of the soundtrack such as voice over track, while the space control allows you to alter the width of the sound image as if the room was larger. Finally, another control allows you to change the input source from stereo to mono and features a by-pass position. The mono selection allows you to hear 3D sound from a mono recording. It is often useful especially with old games that did not feature stereo soundtracks.
Conclusion:
The Vivid 3D Speakers are not only great because they feature the SRS technology, but also because the sound reproduction is remarkable. Used on any sound card or console, the Vivid 3D Speakers will bring your games to life!
Ratings:
Overall:
Technical Information
Inputs:
Audio Input Max: 2 V p-p
Impedance : 100k Ohm Bridging
Connector : Stereo Mini Jack
Amplifier:
35 watts total audio amplification
10 watts true RMS, (17 watts p-p) per channel
Drivers:
Four Aurasound Neo-Radial radially magnetized Neodymium speaker drivers
Frequency Response:
125 Hz - 15Khz
Power:
Operating Voltage: 12 VAC 1.8A 50-60Hz
Dimensions:
Size : 9.40" H x 4.75" W x 8.62" D (23.5 x 11.875 x 21.55 cm)
Weight: 9lbs (4.08 kg)
Retail price:US $199.95
Company's address:
Nu Reality Inc.,
2907 Daimler Street,
Santa Ana, CA 92705.

Tel: 714-442-1080
Fax: 714-852-1059
Order line: 800-501-8086
Copyright © 1995 Coming Soon Magazine! All Rights Reserved.
Reproduction in whole or in part, in any form or medium without express written permission of Coming Soon Magazine is prohibited.