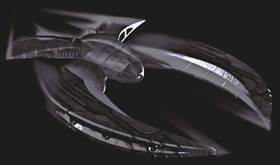 The Cyclone
With the success of titles such as Command and Conquer, and the follow up Red Alert, the hype surrounding the real-time strategy genre has reached an all time high. Of course, this means many imitations, most of which will pale in comparison to the original (much like the followers of the now infamous Doom). While Activision's attempt at a real-time strategy title may not match up to the glory of Red Alert, Dark Reign: The Future of War is nonetheless a quality title that makes small steps forward in the genre, through a few innovative ideas that set it apart from the pack.
Perhaps the first impression Dark Reign leaves is that of an extremely solid title. Everything in the game feels proper, and plot flows together perfectly with the action. The interface during gameplay is smooth, and easy to pick up, but gives enough complicated options to fulfill the needs of expert gamers. Gameplay is pretty much standard fare, consisting of constructing buildings and units, and collecting fresh water for money. Taelon must be collected separately for additional power, to aid unit production and radar.
The Outrider
However, Dark Reign makes a few strides beyond the basics, starting by allowing manipulation of the AI for each individual unit the player controls. Units can be given varying degrees of pursuit range, damage tolerance before going back for repairs, and independence in actions. Players can map out routes for units to follow, or border patrols that cycle back and forth, via plotted waypoints. Add in morphing, phasing, camouflage, sabotage, decoys, and the ability to steal enemy plans, and Dark Reign presents some unique gameplay situations through the different missions.
Graphics in Dark Reign are crisp and sharp, but don't make any real advancement over past real-time strategy titles. However, each of the 40 plus units in the game take on a very unique look, and the two opposing sides hold a very separate image from each other. This is aided by the standard unit responses to player commands, which are clear and forceful, and don't become annoying despite being repetitive. The soundtrack is atmospheric, and fits the theme of Dark Reign perfectly, while remaining very much a background to the action.
Conclusion:
While not braking any real ground in a genre quickly becoming overcrowded, Dark Reign manages to make a few small steps forward, and set itself apart from the bulk of the pack. Up to eight players can duke it out over IPX, and with the many different tactics at the player's disposal, expect some heated battles to ensue. An excellent construction kit helps stretch the longevity of the game as well. Though Dark Reign may not pass up the likes of Red Alert for the real-time strategy crown, it is still an excellent title. Fans of the genre, and those just getting interested, should have no problem with the gaming pleasure Dark Reign provides.
Written by Andrew Phelan
Click here for screenshots
Click here to download the demo
Click here to download additional units
Ratings:
Graphics:
87%
Sound:
93%
Music:
90%
Gameplay:
95%
Interest:
92%
Overall:
91%
System Requirements:
100% Microsoft Windows 95 compatible computer system (including compatible 32-bit drivers for CD-ROM drive, video card, sound card and input devices),
Microsoft Windows 95 operating system,
Pentium 90 MHz processor or faster,
16 MB of RAM,
90 MB of uncompressed hard disk space,
256 Color (640 x 480) VLB or PCI video card with 1MB RAM,
100% Sound Blaster compatible sound card,
Double speed CD-ROM drive (300Kb/second sustained transfer rate),
100% Microsoft compatible mouse and driver,
14.4Kbps modem for modem play (28.8Kbps required for Internet Play).
Developers
Auran.
Web site: Auran
Publishers
In North America:
Activision,
P.O. BOX 67713,
Los Angeles, CA 90067
| | |
| --- | --- |
| Technical Support: | 310-255-2050 Monday through Friday 9:00am to 5:00pm PST |
| Fax Support: | 310-255-2151 24 hours a day |
| Fax Back: | 310-255-2153 24 hours a day |
| BBS Support: | 310-255-2146 Up to 33,600 bauds |
| | |
| --- | --- |
| Hint line: | 1-900-680-4468 (USA) $.95 per minute |
| | 1-900-451-4849 (Canada) CAN $1.25 per minute |
| | |
| --- | --- |
| Order line: | 1-800-782-7927 (USA) |
| | 1-800-828-7927 (Canada) |
Internet Support: Activision Technical Support or Customer Support Form
Web site: Activision
In Europe:
In UK:
Activision Europe Ltd.,
Gemini House,
133 High Street,
Yiewsley, West Drayton, Middlesex UB7 7QL.
| | |
| --- | --- |
| Technical Support: | +44-(0)990-143-525 |
| Hint Line: | 1-0891-555-113 39p per minute at cheap rate, otherwise 49p per minute |
In France:
Ubi Soft
28, rue Armand Carrel
93108 Montreuil sous Bois Cedex.
| | |
| --- | --- |
| Technical Support: | +33-(1)4857-0554 |
| Fax Support: | +33-(1)4857-6291 |
Web site: Ubi Soft
In Australia and Pacific Rim:
Activision Australia,
P.O. Box 873,
Epping, NSW 2121.
| | |
| --- | --- |
| Technical Support: | 1-902-962-000 |
| Hint Line: | 1-902-261-577 $.95 per minute |