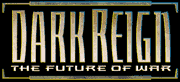 The terrain in Dark Reign plays a major role in troop
movement, as shown here in battle on snow covered
mountains.
The fog of war reveals a Freedom Guard base
surrounded by water.
Troop movements through a passage in the forest
can be strategically mapped out in advance.
Buildings as well as units can definitely be
camouflaged in the trees.
All content Copyright © 1994, 1995, 1996, 1997 Coming Soon Magazine, Inc. All Rights reserved.