by

Click here for a visual introduction of Primal Rage.
Click on image to visit site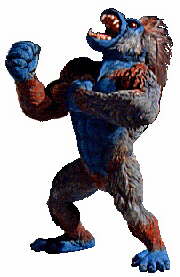 The first time I discovered Primal Rage was at the Summer CES in Chicago last year. I remember the crowd around the Time Warner Interactive's booth watching two guys playing with the arcade game on a huge screen. It was spectacular and if there was something that impressed me at this show, it is surely this game. However, despite all the excitement I had admiring the wonderful graphics, I was a bit disappointed that it was only available in the arcades and not for my PC. Then, when I heard that Time Warner Interactive was going to convert it for over 10 different platforms, I thought I was dreaming. Primal Rage was on its way to the PC and I to heaven! After 14 months of anticipation, the PC version of Primal Rage finally hit the stores in early September for my greatest pleasure and other beat 'em up fans.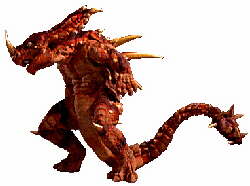 The action of Primal Rage takes place in a shattered world caused by the collision between a gigantic asteroid and Earth. This catastrophe left only few survivors and released seven dinosaur-like gods from the bowels of the Earth where they were trapped for millions of years in suspended life. The world is now divided in seven large territories and your goal is to conquer all the territories to gain world domination through bloody battles and raging fights.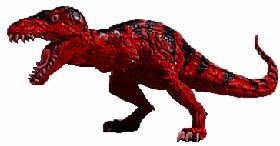 The home version of Primal Rage features three new types of gameplay. The training mode will allow you to practise with another monster of your choice; the Tug of War is a mode where there is only one health bar for the two players with the health balancing from the weakest to the strongest. Finally the endurance mode lets you choose four characters with whom you will fight to the death.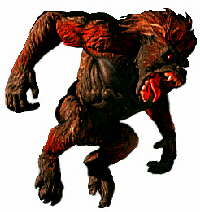 As in the Mortal Kombat games, Primal Rage features digitized graphics for the characters that were taken from hand-painted latex puppets with real hair and fur for an amazing visual effect. It is also the first time that a video game uses true stop-motion animation, and this combined to the quality of the graphics makes Primal Rage simply unique. As each of the puppets were built from a steel skeleton with joints allowing hundreds of different positions to be filmed, the number of actions is amazing. There are over 70 actions per character, including fighting moves, special moves, fatalities, combos and ready poses.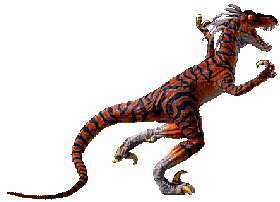 The game allows one or two players as in other fighting games. In the first mode, you have to eliminate seven adversaries to reach the Bonus Round and the Final Battle. During the fights, whenever your health bar is being reduced by a hit, eating a human follower will give you a health bonus. When you defeat an opponent, you will be rewarded with a new territory. The Bonus Round is just to collect additional points and bonus health to prepare you for the final battle in which you meet all your adversaries again that have came back to life. The only difficulty is that you only have one health bar during the final battle.


In the two player mode, the goal is to dominate the world by capturing the most lands and to gather the most human followers. These humans will be awarded each time you achieve various combinations such as finishing moves, damages inflicted, etc...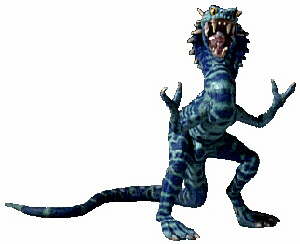 Primal Rage has an option to turn off gory scenes for people who feel sick when they see a drop of blood and also features several levels of difficulty. Other options allow you to customize the keyboard, change music and sound levels, etc... Notice that the installation lets you choose between a small (less than 2Mb) and a full installation (over 30Mb). As always, you will have to choose between space on the hard disk and loading times.


Conclusion:
Teeny Weeny Games, the company that made the PC conversion did a pretty good job. The graphics look very much alike the original arcade version as so are the sounds. The gameplay, one of the most important elements in the beat'em up games, is good enough to keep players excited during the fights and afterwards.
System Requirements:
486 DX-33 MHz or higher (486 DX2-66 recommended),
Min 4MB memory (16Mb recommended),
MS-DOS 6.0 or later,
Hard drive required with 2Mb free,
Double speed CD-ROM drive or faster,
256-color VGA video graphic card (VLB or PCI recommended),
Microsoft mouse or 100% compatibles.

Standard two-button joysticks, Gravis Gamepad supported.

Creative Labs Sound Blaster Basic, Pro, 16 and AWE32; Media Vision Pro Audio
Spectrum; Gravis UltraSound; Ensoniq Soundscape; Roland MT-32, RAP-10.

Ratings:
Graphics: 90%
Sound: 85%
Music: 80%
Gameplay: 92%
Interest: 86%
Overall: 87%

Click here for additional screen shots.


Developers
Teeny Weeny Games
Publishers
In North America:
Time Warner Interactive,
2210 West Olive Avenue,
Burbank, CA 91506.
In Europe:
In UK:
Time Warner Interactive,
1 Rushmills, Bedford Road,
Northampton, NN4 7YH.
Technical Support: +44-171-391-4323
In France:
Time Warner Interactive,
49 Avenue Kleber,
75016 Paris.
Copyright © 1995 Coming Soon Magazine! All Rights Reserved.
Reproduction in whole or in part, in any form or medium without express written permission of Coming Soon Magazine is prohibited.