by
Since their first adventure game, LucasArts has never failed to produce exciting and innovative games from the old Maniac Mansion back in the 80's, to Full Throttle, their latest game. As oppose to their previous games, Full Throttle draws you into a reality that is close to our own. There are no tentacles, no pirate's ghosts of any kind and no Indiana Jones. Instead, you play the role of Ben, the leader of an outlaw biker gang called the Polecats.

The story can be resumed to a intriguing plot set up by a high-ranked employee, Adrian Ripburger, of the Corley Motors company, who wants to take it over by killing the old man Corley. This tragedy would not have concerned Ben and his gang if Adrian Ripburger didn't have the machiavellian idea to make Ben the main suspect of this vicious crime...


The beautiful introduction of the game mixing hand-painted graphics with computer rendered animated vehicles is nothing else than splendid. You will discover why Ripburger wanted to hire the Polecats, and what awaited Ben after he had a serious talk with Ripburger. The game starts when Ben finds himself trapped in some dumpster behind the bar. Having no particular difficulties to get out, especially with such a punch, Ben will have to find out what happened to his gang and why they followed Ripburger. After you have an active talk with the bar tender to get your keys back and some information about the recent events, you get on your bike to prevent your gang from being ambushed by Ripburger and his baboons.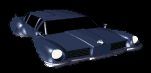 The graphics in Full Throttle are in standard VGA but this doesn't mean they look bad, on the contrary! As in other previous games from LucasArts, the graphics bring a special atmosphere to the story. Some games use realistic graphics to faithfully represent the environment where the action takes place, but in LucasArts's adventure games, they look more like a cartoon. Just think of Monkey Island, Day of the Tentacle or more recently, Sam & Max. With the Full Throttle project, one could have used SVGA graphics with actual photographs, digitized pictures and full motion video everywhere like the industry is heading nowadays, but it wouldn't have the same ambience at all. The soundtrack also contributes to the atmosphere of Full Throttle with music by "The Gone Jackals" and sound effects such as the wind blowing in the desert, thunder in the plains or roaring engines on the road. The voices of the Characters are something you will enjoy too by their good quality and excellent acting.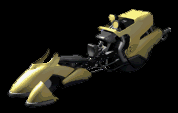 Full Throttle's interface is quite innovative and very simple. When you play with the game, you only control a cursor on the screen. If you move it on an object, a red square will appear around the cursor which means that if you hold the left mouse button down, you will be able to choose an action. There are four choices: the eyes to examine, the mouth to drink or talk, the punch to use, take objects or simply punch, and the boot to kick with. For the inventory, just right click the mouse and it will appear on the screen. When you want to use an object from your inventory, just take it and move it to the place where you think it will work.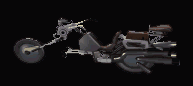 Inside the game, you will also discover action sequences and cut-scenes. In the action phase, you will drive your bike on highways and roads in a 3D rendered environment such as in Rebel Assault. You will fight bikers from other gangs with various weapons that you will select, or just have to travel from one place to another.


Conclusion:
If you like previous games from LucasArts, you will undoubtely adore Full Throttle because it contains the same kind of humor and the same overall quality.

System Requirements:
486 DX2-33 MHz or higher,
Min 8MB memory,
MS-DOS 5.0 or later,
Hard drive required with 1Mb free,
Double speed CD-ROM drive or faster,
256-color VGA video graphic card,
Microsoft mouse or 100% compatibles,

Joystick optional.

Creative Labs Sound Blaster, Pro, 16 and AWE32; Media Vision Pro Audio
Spectrum; Gravis UltraSound; Ensoniq Soundscape.

Ratings:
Graphics: 92%
Sound: 85%
Music: 86%
Gameplay: 85%
Interest: 90%
Overall: 88%

Click here for additional screen shots.


Developers
LucasArts
P.O. Box 10307,
San Rafael, CA 94912
Technical Support: 415-507-4545
Technical Fax Support: 415-721-3482
BBS Support: 415-257-3070
Hint line: 900-740-5334 (USA)
Order line:
800-782-7927 (USA)
800-828-7927 (Canada)
Publishers
In North America:
See Developers.
In Europe:
In UK:
Virgin Interactive Entertainment Europe Ltd.,
338a Ladbroke Grove,
London W10 5AH.
Technical Support: +44-181-964-8242
In France:
Ubi Soft
28, rue Armand Carrel
93108 Montreuil sous Bois Cedex
Copyright © 1995 Coming Soon Magazine! All Rights Reserved.
Reproduction in whole or in part, in any form or medium without express written permission of Coming Soon Magazine is prohibited.