Micro Machines 2
by
Codemasters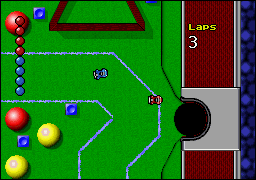 FORMAT: PC/PC CD-ROM
DATE: July 1995
In July, the PC gaming world will discover what playability and speed really mean with the new title from Codemasters, Micro Machines 2 Turbo Tournament! The sequel to the original Micro Machines is even better and faster with new features and options that will turn your PC litteraly into a console.
The only difference between the two versions on the PC and the Sega console is the presence of a Construction Kit in the PC version. Gameplay is terrific and vie in speediness with the Sega version which leads me to say there is nearly no differences between the two games.

Click on image to visit site

As in the first episode, Micro Machines brings you into a miniaturized world where crazy drivers challenge each other with dreadful vehicles on chaotic tracks. This time, 54 race tracks are included with 17 types of terrain for 100% action guaranteed! The 15 mini vehicles available will drive you on sea, air and land to test your driving skills beyond limit as the terrains have unique properties that affect handling.

Racing on the tracks is not an easy thing. Most of them direct you to holes, pits or water where you can fall into if you drive too fast. Avoiding traps that appear is the first thing you must get used to, without forgeting that your opponents are behind waiting for you to make a mistake and gain pole position.

There are several ways to play with Micro Machines 2. For a one player game, there are the challenge, the head to head, the super league and finally the time trial. In the challenge, you will race against three drivers controlled by the computer. If you finish third or fourth after third laps, you will lose one life and will be given a chance to replay the course. In case, you reach the first or the second position, you will continue and pass to the next course with a new vehicle. A total of 25 tracks awaits you in the challenge including bonus tracks where you can win an extra life, hidden power-ups or even enjoy an Auto Winner experience if you drive like a god.

In the head to head option, you will compete against one challenger on the same principle than in the challenge. However, to win the race, you need to be ahead of your adversary by reaching the screen's edge. Each time you do this, you will earn a bonus point symbolized by a coloured light. You will be the winner if you collect 8 lights or have the most at the end of the 3 laps.

The super league is a game of ranking. You start the race in the fourth division and have to make your way up to the first by winning the most points. The points are given depending which position you achieved for each race and after one season, the players who have the most points will be upgraded while the loosers will be lowered at the bottom! When you play at the time trial, you will race against the clock! Some of the tracks feature a shadow racer that follow the course of the best driver on this track at the same time you are racing.

If you prefer to play with other players, Micro Machines 2 allows up to 16 players to play. Of course, not simultaneously but in tournaments. Still, the game can be played by four persons at the same time using two joysticks and one keyboard (2 players on the keyboard). I can imagine how fun it can be playing at four, because I had already a great time just playing at two.

As I said above, the only difference between this version and the Sega game, is the construction kit. This very useful feature allows you to extend your pleasure at will as you can design your own tracks and vehicles. The test option lets you race the track during its making and you will be able to change vehicle's speed, terrain's properties and weather attributes if you are not completetly satisfied. Even if you master all the tracks in a short time, the construction kit assures you unlimited hours of excitement. See, you can get tracks from a friend, a magazine, online services where people share their creations, and also get data disks that will be made available later by Codemasters. It has been a tremendous idea from the company to feature this tool that extends both gamelife and amusement.
Conclusion:
It was difficult to imagine anyone creating something better than the original Micro Machines so good it was already. However, Codemasters proved once more they were not only able to design good games but also to make them great to play. The scrolling is perfect, the CD music drives you along the tracks and the gameplay is divine! Highly recommended for anyone who likes fast action!
---
System Requirements:
386 DX-33 MHz or better,
Min 4 MB memory,
MS-DOS 5.0 or later,
Hard drive required,
Double speed CD-ROM drive or faster (for CD-ROM version),
VGA graphic card,
Microsoft Mouse or 100% compatible,
Sound Blaster, Pro, 16, AWE32 and 100% compatibles, Gravis UltraSound/Max.

---
Ratings:
Graphics : 90%
Sound : 88%
Music : 92%
Gameplay : 97%
Interest : 88%

Overall : 91%
Developers & Publishers
Codemasters
Lower Farm House,
Stoneythorpe,
Southam, Warwickshire, CV33 0DL
United Kingdom.

Tel: +44-1926-814-132
Fax: +44-1926-817-595
Copyright © 1995 Coming Soon Magazine! All Rights Reserved.
Reproduction in whole or in part, in any form or medium without express written permission of Coming Soon Magazine is prohibited.