FLIGHT UNLIMITED by LOOKING GLASS TECHNOLOGIES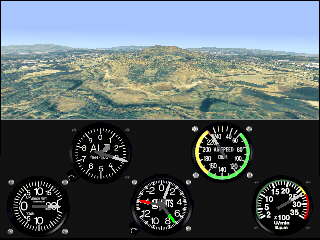 FORMAT: PC CD-ROM
DATE: JUNE 1995
PRICE: N/A

Microsoft's Flight Simulator remained for many years one of the best flight simulators around, but today with the arrival of Flight Unlimited by Looking Glass Technologies, its days are definitively numbered.

What makes Flight Unlimited so special is the combination of photo realistic landscapes with a new revolutionary flying model. Until now, the old models considered the plane as a set of vectors you can control in a direction of your choice. The surrounding atmosphere was non-existent and barely taken in consideration in the flight equations. In Flight Unlimited, the model simulates the air flowing around the plane. When you move the controls, the way the air flows over them will be changed making the plane modify its course. This system allows dynamical elements like air currents, turbulence, etc... to influence the plane for a genuine flight experience nobody ever experienced before on a PC.

Click on image to visit site

The different landscapes used in the program have nothing in common with other flight programs. Where polygons were used to reproduce mountains or hills, Flight Unlimited replaces them with real mountains covered by trees, roads, snow and other details you only notice when flying in a real plane. In fact, the programmers team used authentic aerial photos to faithfully reproduce the landscapes by calculating the original height for each pixel.

This technique achieved very impressive results with gorgeous scenes that everyone has dreamt of without thinking that one day it would be reality. Of course, as always, there is a price to pay: speed. Unless you own a 486 DX-66 or a Pentium processor with a VESA Local Bus (VLB) or PCI video graphic card, this exceptional program will turn out in a nightmarish experience regarding animations. Fortunately, there are plenty of options which can be customized like screen resolutions (320x200 up to 1024x768), and graphic details (haze, clouds, landscape details, etc...) to offer the player a wide selection of possibilities to speed up the gameplay of Flight Unlimited.

We tested the game with several screen resolutions to find out what was a good compromise between speed and graphics quality. The 320x400 resolution appeared to be the best on a Pentium 60 running with an ISA video graphic card, but then this is just a test on one machine, and we all know that one PC is not comparable to another! So it's really up to the player to see what is the best configuration he or she has to select for faster animations.

Once your configuration is optimized, you will discover the joy of free flying over beautiful scenery. Flight Unlimited offers six areas with five of them in the following states: Alaska, Arizona, Maine, Virginia and Connecticut. The sixth region, located in France, will have you discover the northern part of Brittany in the area of Dinan. Other sceneries will be available in the future to bring even more excitement to the players.

However, Flight Unlimited is not only dedicated to free flying, it is also an aerobatics simulation program that allows you to learn from basic maneuvers to crazy stunts. Over 30 interactive lessons divided into 7 groups of increasing difficulty will guide and help you to perform the acrobatics. Your performances will be analyzed then rated, and ultimately, you will receive a graduation certificate for every lesson you successfully accomplished. Each lesson has two parts, one part on the ground and the other based in flight. The first section presents you with a general view of the maneuver and the second provides the player with instructions during the flight.

To help you achieve unlimited performances in the sky, Flight Unlimited has a great collection of airplanes all designed for aerobatic maneuvers. The five airplanes featured in the game are the Bellanca Decathlon, the Pitts Special S-2B, the sailplane Grob G-103A Twin II Acro, the Sukhoi SU31 and the Extra 300S. The realism for both graphics and sounds are pushed beyond limit and provides the player with an unmatched sensation of being there instead of watching some screen.

The game also offers support for a wide variety of joysticks and VR headsets. Unfortunately, we did not have the opportunity to test the game with any of the VR systems, but as soon as we can, we will drop a note in the magazine.
Conclusion:
Among the other features of the game are the hoops course, the fixed base operation (FBO) with a first person perspective view, the logbook with the recording option, the different camera views, etc... many surprises will await you in this wonderful game. It is not only recommended to flight simulator fans, but also to people who never enjoyed traditional simulators because of poor graphics or lack of realism. They will find everything they ever expected of a true flight experience!
---
RATINGS
Graphics : 98%
Sound : 95%
Music : --%
Playability: 88%
Interest : 93%

Overall : 94%
---
SYSTEM REQUIREMENTS
486 DX-33 MHz or higher (486 DX2-66 Mhz highly recommended),
Min 8 MB memory,
MS-DOS 5.0 or later,
Hard drive required with 25 Mb free,
Double speed CD-ROM drive or faster,
256-color Vesa SVGA video graphic card,
Microsoft mouse or 100% compatibles,
Popular joysticks, control yokes, rudder pedals,
Virtual IO Glasses, Forte VFX-1 Headgear, VictorMaxx CyberMaxx, 7thSense VR System,
Sound Blaster, Pro, 16, AWE32 or 100% compatible, Gravis UltraSound/Max,
Ensoniq Soundscape or 100% compatible, Roland RAP-10.

---
DEVELOPER & PUBLISHER
In North America:

Looking Glass Technologies
One Alewife Center, Suite 450
Cambridge, MA 02140

Technical Support: 617-576-3310
BBS Support : 617-441-0413
DISTRIBUTORS
In UK:

Virgin Interactive Entertainment Europe Ltd.,
338a Ladbroke Grove,
London W10 5AH.

Technical Support: +44-181-964-8242

In France:

Ubi Soft
28, rue Armand Carrel
93108 Montreuil sous Bois Cedex
Copyright © 1995 Coming Soon Magazine! All Rights Reserved.
Reproduction in whole or in part, in any form or medium without express written permission of Coming Soon Magazine is prohibited.