STRIKER '95 by TIME WARNER INTERACTIVE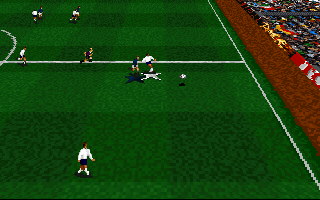 FORMAT: PC-PC/CD
DATE: JUNE 1995
PRICE: 29.99/34.99 Pounds

After Rise of the Robots published last year by Time Warner Interactive, the company seems to have other projects for the PC and other platforms. 1995 will be a decisive year for the publisher who has important titles in development that should be released before Christmas.

Click on image to visit site

One of these titles is called Striker '95, a soccer game inspired by the successfull Striker and World Cup Striker series released on the Super Nintendo Entertainment System by US Gold. Two versions will be available for the PC, one on floppy and the other on CD-ROM as you can easily imagine with the growing expansion of the CD-ROM market.

Like FIFA Soccer from Electronic Arts, the game will use a 3D environment with rotoscoped player animations for more realistic movements. Different stadiums will be included in the game with a variety of playing surfaces. Striker '95 has over 5,000 players, each with their own statistics who are distributed among over 50 national and international teams. The stadium atmosphere will be rendered with a wide armada of sounds from cheers to songs and noises sampled directly from real games.

The CD-ROM version will feature commentaries from Andy Gray (famous in the United Kingdom) in different languages (English, French and German).

If the game keeps its promises, it could be the best PC soccer game, but so far, FIFA Soccer is still the best on PC and rules on the 3DO!
Copyright © 1995 Coming Soon Magazine! All Rights Reserved.
Reproduction in whole or in part, in any form or medium without express written permission of Coming Soon Magazine is prohibited.