SUPER STREET FIGHTER II TURBO
by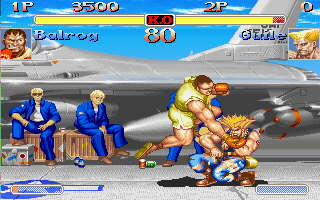 FORMAT: PC-PC/CD-ROM
DATE: APRIL 1995
PRICE: N/A

Combat games are coming back for the PC with the announcement from Gametek to release a new version of the famous Street Fighter. Super Street Fighter II Turbo will feature four new characters for a total of 16 available. Three distinct speeds will be possible with new moves for each of the characters. They will need all their resources to fight the new boss Akuma, who is told to have unknown powers.


The game is compatible with the 6-buttons PC pads for a better game play than with the keyboard. Graphics look very good, but it is best not to say anything about the game play until we can actually play with it. The game supports up to two players at the same time in the versus mode and players can choose the same characters to fight each other.
Copyright © 1995 Coming Soon Magazine! All Rights Reserved.
Send comments to: NoSpamEmail