PYROTECHNICA
by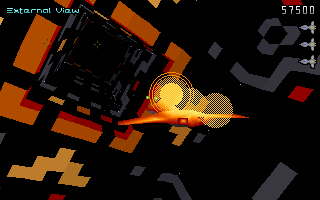 FORMAT: PC
DATE: APRIL 1995
PRICE: N/A

Psygnosis is developing a futuristic 3D game with fast Gouraud shaded textures, furious paced action and lighting effects. The game called Pyrotechnica will bring you to the year 2112 when interplanetary research discovered that knowledge from dead civilizations was buried in capsules in the heart of dead stars.

This highly valuable information is worth millions of credits to the Terran Hardlight Corporation. Runners excavate the star's core to find the rare information, but there is the danger caused by the Adherents. These hostile cyborgs guard the knowledge and are programmed to defend it with the most ferocious rage.

Click on image to visit site

Your role will be to save a team of Wingmen Runners who are trapped in the Halls of Fire, located deep in the Red Star. As an expert in this kind of operation, you will pilot your space ship through tunnels and chambers to rescue your Wingmen and blow up every Adherent that gets in your way.

The game promises a great and fast game play with the possibility to improve your ship with dozens of devices and power-ups.
Copyright © 1995 Coming Soon Magazine! All Rights Reserved.
Send comments to: NoSpamEmail