As the title suggests, NetStorm was created for multi-player gaming. The result is a rather weak one-player game compensated for by all out wars between up to eight players online. Though the graphics and sounds won't catch anyone's eye, NetStorm's unique take on the real-time strategy genre is very fresh and tons of fun. It may not be everyone's cup of tea, but NetStorm is a great break for anyone tired of playing the most recent Red Alert clone.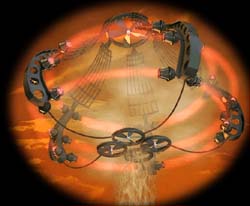 The basic point in either the single or multi-player games is to capture enemy priests and sacrifice them to the Furies. In single player games, this marks the end of the mission, but in multi-player, it gives the player new skills. Each player starts out on an island in the sky at the beginning of each game, and chooses to align with the Wind, Rain, or Thunder Fury. They must build bridges out of Tetris-like pieces to connect to other islands, as well as the Storm Geysers, which give players Storm Power, the money of the game. Either on the islands or connected to the bridges, immobile units can be placed to fight off the enemy.
The only units that are moveable in NetStorm are the priests, varied collectors of Storm Power, and uncontrolled flying units. Strategy is not creating a ton of units and shipping them off to an enemy base like other games out there, but rather slowly expanding towards enemy islands. These units all have different distances and angles of attack, as well as strengths and weaknesses. For instance, the crossbow is very powerful, but can only fire in a 120-degree arc, whereas the sun disc thrower is weak and has limited range, but is capable of attacking in a 360-degree field. Different units offset each other, and combinations of units are stronger than just multiples of them same. Splash damage occurs as well, which means separation of units is a necessity. NetStorm rewards aggressive players by giving them variable Storm Power for destroying units.
After overpowering the enemy, the player has a chance to shoot and immobilize the vulnerable priest. Once this is done, the priest is taken back to an island under the player's control by a Storm Power collector and sacrificed on an alter by the player's priest. Each sacrifice means moving up a level and gaining a new power. When choosing games online, this helps create a balance between players, as the battlemaster has the right to kick anyone off. Similar ranks end up playing each other, which means a good time for all.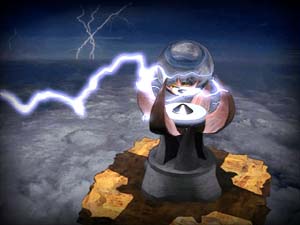 In the end, NetStorm is a great multi-player experience. There is plenty of totally new strategy here, with a plethora of different attacking, collecting, and blocking units, as well as spells, alliances, and completely unique game play. Playing games in the higher ranks requires an almost completely different strategy than in the lower ranks, which helps keep players hooked. Things often get a bit stuffy with eight players on one map, as it becomes a serious pain to attempt to attack someone on the opposite side. Space becomes very clogged, which often makes well-routed bridges more important than tons of Storm Power. Bigger maps would have been nice, but that would have made separation of the players too great. Games run long, often an hour or more. Almost no LAG is present though, which helps the time fly by.
Conclusion:
Overall, NetStorm is a good deal of fun, and is different from anything else out there. It may not overpower anyone with outstanding graphics or sound, but the engine pushes tons of units on-screen at once. For any online gaming, real-time strategy addicts out there, NetStorm is a must.
Written by Andrew Phelan
Click here for screenshots
Click here to download the demo
Ratings:
Graphics:
80%
Sound:
84%
Music:
85%
Gameplay:
92%
Interest:
94%
Overall:
88%
System Requirements:
100% Microsoft Windows 95 compatible computer system (including compatible 32-bit drivers for CD-ROM drive, video card, sound card and input devices),
Microsoft Windows 95 operating system,
Pentium 90 MHz processor or faster,
16 MB of RAM,
15 MB of uncompressed hard disk space,
256 Color (640 x 480) VLB or PCI video card with 1MB RAM,
100% Sound Blaster compatible sound card,
Double speed CD-ROM drive (300Kb/second sustained transfer rate),
100% Microsoft compatible mouse and driver.
Additional System Requirements for Multiplayer
100% 14.4Kbps Windows 95 compatible modem,
100% Windows 95 compatible network (LAN),
IPX network (LAN) and/or TCP/IP network (Internet play).
Developers
Titanic Entertainment.
Web site: Titanic Entertainment
Publishers
In North America:
Activision,
P.O. BOX 67713,
Los Angeles, CA 90067
| | |
| --- | --- |
| Technical Support: | 310-255-2050 Monday through Friday 9:00am to 5:00pm PST |
| Fax Support: | 310-255-2151 24 hours a day |
| Fax Back: | 310-255-2153 24 hours a day |
| BBS Support: | 310-255-2146 Up to 33,600 bauds |
| | |
| --- | --- |
| Hint line: | 1-900-680-4468 (USA) $.95 per minute |
| | 1-900-451-4849 (Canada) CAN $1.25 per minute |
| | |
| --- | --- |
| Order line: | 1-800-782-7927 (USA) |
| | 1-800-828-7927 (Canada) |
Internet Support: Activision Technical Support or Customer Support Form
Web site: Activision
In Europe:
In UK:
Activision Europe Ltd.,
Gemini House,
133 High Street,
Yiewsley, West Drayton, Middlesex UB7 7QL.
| | |
| --- | --- |
| Technical Support: | +44-(0)990-143-525 |
| Hint Line: | 1-0891-555-113 39p per minute at cheap rate, otherwise 49p per minute |
In France:
Ubi Soft
28, rue Armand Carrel
93108 Montreuil sous Bois Cedex.
| | |
| --- | --- |
| Technical Support: | +33-(1)4857-0554 |
| Fax Support: | +33-(1)4857-6291 |
Web site: Ubi Soft
In Australia and Pacific Rim:
Activision Australia,
P.O. Box 873,
Epping, NSW 2121.
| | |
| --- | --- |
| Technical Support: | 1-902-962-000 |
| Hint Line: | 1-902-261-577 $.95 per minute |