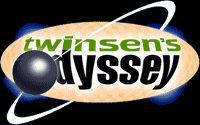 by
At long last, Twinsen is back and he's better than ever! After rescuing his planet Twinsun from the evil grasp of FunFrock in Relentless, Little Big Adventure, he and his wife Zoe have settled down and are expecting their first child. Under the benevolent magical energy of Sendell which radiates from the core of the planet, all of Twinsun's inhabitants lead peaceful and happy lives. Peaceful until an unusual rain storm disrupts their lives and injures Twinsen's friend, DinoFly. His first task is to find a cure for his injured friend, but many things happen before he can accomplish this task. As the storm ends, strange beings from Zeelich called the Esmers land on Twinsun, claiming that they come in peace. All too soon our hero discovers a diabolical plot in which the magicians of Twinsun are being taken to Zeelich. Twinsen finds himself off to the planet Zeelich where he discovers an even more dastardly plot. The children of Twinsun have been taken and the Esmers have proven themselves to be less than friendly. En route to save the children, Twinsen has to save his friend Baldino from a prison on the Emerald Moon. Baldino has been captured because he's discovered that the Esmers intend to destroy Twinsun to release its magical energy, use it to help restore Zeelich and to disperse the gas clouds that surround it. The Dark Monk, the Esmers' evil leader along with the Emperor, has led his people to believe that their reincarnated god will save them by using the energy of Sendell. Only Twinsen can, again, save his home planet from total destruction and defeat the Dark Monk.
Little Big Adventure 2 is being touted as "The most anticipated sequel since Civilization 2". I would have to say that it was well worth the wait. With a cast of more than 200 characters, ten different species and the opportunity to journey across moons, deserts, and vast seas; the number of things to see and do are seemingly limitless. This game also features a flexible story line so that a player can play the game again and see new aspects arise according to decisions taken during the game.
This game's most outstanding and immediate feature has to be its graphics. 3-D polygonal characters are seamlessly integrated into beautifully pre-rendered texture mapped environments to deliver a visual impact that simply doesn't exist anywhere else in the gaming world. The camera is kept still longer rather than redrawing every frame allowing programmers to enhance the landscapes with thousands more polygons while keeping redraws in the quarter of a second time intervals. All this means that players can wander around corners, up stairs and into other tight situations and still get a good view by changing camera views. Two zoom settings will also allow players to get a better look at the situation, when needed. The net result being that multiple characters carry on about their business in rich, fully detailed landscapes while the hero walks, runs or jumps through the scene. A more detailed 3-D scene I have yet to see in any other game.
No detail was spared to give the characters unique personalities, nor did they limit themselves to what they should look like. Twinsun is home to four different species (Quetches, Grobos, Rabbibunnies, and Spheros) while Zeelich is home to no less than six other species (Knartas, Sup, Blafard, Mosquibees, Gloums and Extra-Terrestrial Tourists). This diversity of species has allowed for the creation of some very memorable characters.
This CD-ROM comes with six music tracks that can be played on any ordinary CD player, each track a fully orchestrated piece of original music created for this game. These tracks are heard when playing the game and only add to the full experience of the game. The music follows whatever situation the player happens to be in at the time, changing when entering certain buildings or rooms. Sound effects are also abundantly present, perfectly timed and totally realistic.
Game controls were kept to a minimum, no doubt to enhance game play without losing the player in endless keystrokes and detailed command structures. Most of the action occurs by using the cursor keys, the End key, the Alt key and the Space Bar. The Enter, Ctrl, Shift, Tab, Backspace and Esc keys are also used but less frequently and secondary functions are also available through eight of the function keys. No matter what direction your character is facing or what room he's in, the cursor keys function the same way throughout the game. E.g., the up arrow key is used to move the character forward. This is true regardless of the current view, which means if the character is facing you and you press the up arrow key, the character will move toward you. Logical but can be a bit difficult to get used to at first.
Also note that the hero of this game operates under different behavior modes. These can affect different aspects of the game the least of which are running, jumping and fighting. These modes will affect also using the various objects used for defense and offence so be sure to experiment with all of them when the character finds a new tool or weapon.
As for the story line, the player will find that it flows based on actions taken or not taken at certain times. Even though the player is free to move anywhere at anytime there is a basic story thread that will lead the player to the end. How long that takes is entirely up to the player. My best advice it to explore every nook and cranny of a particular area and talk to everyone before moving on to another area. Some elements will repeat themselves but this is only to make sure a player is on the right track. Note also that once the story line has progressed to the next step, be sure to talk to everyone again as they will have something new to say which could help solve a puzzle or move the story ahead. SAVE OFTEN! This last bit of advice is especially true when nearing the end of the game where time does begin to be a factor in what happens next in the story. Fortunately easy access function keys make saving and loading quick and easy allowing for minimal interruptions during game-play.
Conclusion:
Beg, borrow, cajole, do whatever it takes to get your hands on this one! This is more value for the money than I would have believed possible. If the graphics and sound effects don't knock your socks off, you were probably already barefoot to begin with. An excellent production from Activision that is sure to do very well this year. One can only hope that something similar is already in the works for the near future. This jewel is one of the must have products to add to any gamer's collection.
Written by Glenn Soucy
Click here for screenshots
Ratings:
Graphics:
95%
Sound:
94%
Music:
95%
Gameplay:
95%
Interest:
94%
Overall:
95%
System Requirements:
100% Microsoft Windows 95 compatible computer system (including compatible 32-bit drivers for CD-ROM drive, video card, sound card and input devices),
Pentium processor or higher,
16MB minimum memory,
45MB of uncompressed hard disk space,
256 Color (640x 480) VLB or PCI video card with 1MB RAM,
100% Sound Blaster 16 compatible sound card,
4X speed CD-ROM drive (600K/second sustained transfer rate),
100% Microsoft compatible mouse and driver,
Dedicated game card is highly recommended for joystick.

NOTE:The Windows 95 version uses Microsoft DirectX 3a technology, and requires that your system have the most updated drivers that fully support DirectX.

Publishers
In North America:
Activision,
P.O. BOX 67713,
Los Angeles, CA 90067
| | |
| --- | --- |
| Technical Support: | 310-255-2050 Monday through Friday 9:00am to 5:00pm PST |
| Fax Support: | 310-255-2151 24 hours a day |
| Fax Back: | 310-255-2153 24 hours a day |
| BBS Support: | 310-255-2146 Up to 28,800 bauds |
| | |
| --- | --- |
| Hint line: | 1-900-680-HINT (USA) |
| | 1-900-451-4849 (Canada) |
| | |
| --- | --- |
| Order line: | 1-800-782-7927 (USA) |
| | 1-800-828-7927 (Canada) |
Internet Support: Activision Technical Support or Customer Support Form
Web site: Activision
In Europe:
In UK:
Activision Europe Ltd.,
Gemini House,
133 High Street,
Yiewsley, West Drayton, Middlesex UB7 7QL.
| | |
| --- | --- |
| Technical Support: | +44-(0)990-143-525 |
| Customer Service: | +44-(0)181-742-9400 |
In France:
Ubi Soft
28, rue Armand Carrel
93108 Montreuil sous Bois Cedex
| | |
| --- | --- |
| Technical Support: | +33-14857-0554 |
| Fax Support: | +33-14857-6291 |
Web site: Ubi Soft
In Australia and Pacific Rim:
Activision Australia,
P.O. Box 873,
Epping, NSW 2121.
| | |
| --- | --- |
| Technical Support: | 1-902-962-000 |
All content Copyright © 1994, 1995, 1996, 1997 Coming Soon Magazine, Inc. All Rights reserved.