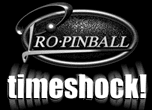 by
Pro Pinball - Timeshock is the second pinball title from Empire Interactive. Following the path defined by its first critically acclaimed entry into this market, Pro Pinball - The Web, Timeshock is a single rather than multi-table simulation, expanded in several areas and with a new concept and table. The Web was a plot based table and so is Timeshock. The new game is based on the premise that time is a fluid medium flowing from the future to the past where it crystallises. A time shock has shattered the crystal at the dawn of time and it is the player's task to retrieve the fragments and to reassemble them. In the process you will play four table segments; the present, the future, the Roman era and the prehistoric era. In each you collect artefacts which may be combined together in many ways to accomplish your tasks. The final goal is to recombine the crystal shards to restore time's equilibrium.

Autoplay and setup occur automatically under Windows 95. DirectX 3.0 is included. The MS-DOS version has its own installation routine. Four different install levels are available ranging from 10 to 180Mb. Full install makes the game run fastest since it transfers table graphics, the examination mode and the slideshow onto hard disc leaving the CD providing the music soundtrack. The setup succeeded first time and correctly identified a reasonable level of video and audio detail to get the game running without recourse to the configuration menus.

When you start a Timeshock session the table is loaded and runs a self test. The time this takes depends on your setup and machine configuration but can be anything from half a minute for a `lean' setup to five minutes for a full-blown configuration on a slower PC. In between games, the table resets almost instantaneously. Fortunately you can tailor Timeshock settings in the configuration menu. The Timeshock manual has complete configuration details with several pages of menu descriptions just like the manual for a physical pinball table. All menus are easy to navigate using the arrow keys and Enter to accept changes.

There are two sets of configuration options. One set allows you to make changes to the way the game runs to suit your machine and your preferences. Video resolution can be set from 640x480 pixels in a 256 color palette to 1280x1024 in 24-bit color if your video card has the capacity. Audio resolution varies from 11 to 44.1kHz sampling rate. You can change the appearance of the table (angle of view) from a fat trapezoid to a slim rectangle. The dot matrix display can range from a small, permanent and solid window to an intelligent transparent monster taking up the top quarter of the screen - appearing when necessary and not substantially obscuring a view of the upper reaches of the table at critical moments. Note that all this detail is at the expense of processor and memory load, so if you do not have a maximum spec machine you can trade video, audio and dot matrix resolution until you have a fit that suits you.

The other configuration area lets you into the table itself so you can peruse the exhaustive scoring statistics and make changes to the table's responses. Consult the score sheets to evaluate your game and spot strong and weak areas. Then play with the table defaults to reduce or increase the level of challenge to acquire points, bonuses and awards.

Before you can tinker with the table you must earn the right by completing table challenges and moving up the scoring league. If you alter your table you need to restore factory defaults in order to have your scores published on the web site. Empire has thoughtfully provided a temporary factory default setting achieved simply by holding down both flippers for two seconds before beginning a game. At the end of this game your custom table is restored. Unfortunately you can't save a number of different tables for comparison.

The table is fully described by a number of annotated illustrations in the manual. Each of the tasks is described in detail and the shots and targets you will need to complete are fully explained. The dot matrix display plays an integral part in the game with four video games controlled by the flippers.

Table bumping is an integral part of the game. Methods of nudging and ball saving are described in a short dissertation by a World Grand Champion of The Web. The rack contains ten balls and there are several multi-ball sequences. A lock feature is enabled after scoring suitable targets, lighting up the letters MangoSave and enabling the player to rescue a ball from the right-hand out lane. A single-ball Novice mode offers two minutes of ball save. Challenge and tournament modes are for single and multi-player (up to 4). High scores may be entered in Empire's hall of fame web site for the game.

The table is a real wonder of color and detail so it's worth entering examination mode to play around with the solenoids and flashers and to sit back and watch the slideshow of beautifully detailed graphics. I thought that so much crammed in detail made the ball and targets on the small side even using a 17" or 21" monitor. Perhaps because of this the ball seemed to me more like a little slippery disc than a rolling and spinning ball. Also, it seemed to accelerate alarmingly as it ran down the flippers and to disappear into the upper reaches of the table so I couldn't at first follow its track. A little play on Novice mode with the two-minute ball save allowed me to get into the tens of millions after a few tries and I was ready for a challenge mode. Since high scores will be in the thousand million range hot- shots are safe from my challenge - for a day or two at least.

As with The Web, there are plenty of voice cues to direct your shots but you do need to refer to the manual quite a lot at first. There are several pages detailing the acquisition of targets and arrangements of shots and it's fortunate that you can use the Escape key to suspend the ball in mid-field so you can delve into the manual. As for the controls, the same intuitive keyboard layout is implemented by default in the game. The ENTER key launches a ball, Shift keys are flippers, Alt keys and space bar nudge the table. Magno-lock, when enabled, allows you to use the backspace key to rescue a right-hand out lane draining ball. Getting to grips with flipper technique may be an art but nudging the table is a set of skills I have to work on. Fortunately, the Escape key and Jonas Martinsson's guide to mastering pinball at the back of the manual are at hand.

Though there are masses of settings available for alteration, the navigation and selection procedure is simply achieved with arrow keys. It's possible to pinpoint a scoring problem in the statistics and set the relevant table controls to make the target easier or more difficult. The only problem is that some features are locked until you've achieved the relevant level of scoring to allow you to alter them. One assumes that this represents a challenge and/or a method of assuring longevity. All depends upon your attitude and level of commitment. Still, if you don't feel like taking things too seriously just bang the ball about and see what surprises are in store. There are so many elements in the game it's unlikely to become repetitive. It's a game, after all.

And it is fun. There's enough original music from Bruce Foxton and Jake Burns (Stiff Little Fingers) to fill a stand-alone audio CD and plenty of novel and diverting video effects both in table graphics and the smooth flowing dot matrix display. I found Timeshock much more enjoyable and a deal less frustrating than The Web. It's bright, colorful, lively and varied. It's also very different from other pinball simulators in look and feel and yes, you really do get the impression you could play this one on a real wide-body electromechanical table in an arcade.
Conclusion:
Pro Pinball - Timeshock is system friendly. Its configuration options allow you to tailor video and audio performance to your machine capability and taste. Whether you are a novice or expert player you can find a level of challenge to suit you. As you acquire skill and confidence the game can grow with you and you can configure the table to be forgiving or testing as you choose. The level of detailed control allows you to set up a practice table to refine skills but you can't save different table defaults for direct comparison.

Owners of Pro Pinball - The Web will instantly recognise the style of Timeshock but won't find it just a disappointing version upgrade. Concept and table are original designs. Sound effects and musical score are also new. This program is a definite development and progression towards Empire's goal of a fully realised professional full-scale machine. Though it only presents one table and the ball is a minute moving flat disc, Timeshock does give an impression of the real thing, truly a virtual equivalent of a physical arcade table.

Written by Christopher Bridgman

Click here for screenshots
Ratings:
Graphics:
90%
Sound:
85%
Music:
86%
Gameplay:
85%
Interest:
84%
Overall:
86%
System Requirements:
Pentium 60 Mhz or faster (Pentium 166 Mhz for best performances),
MS-DOS 5.0 or Windows 95,
Min 8MB memory (32MB memory for best performances),
Hard disk with 10MB free hard disk space,
Double speed CD-ROM drive or faster,
1MB SVGA video graphic card (8Mb PCI Graphics card for best performances),
Most popular sound cards supported.
Publishers
In North America:
Empire Interactive,
13220 Wisteria Drive,
Bay N-2,
Germantown, MD 20874.
| | |
| --- | --- |
| Technical Support: | 301-916-9303 Monday through Friday |
| Fax Support: | 301-916-0437 |
Internet Support: Empire Interactive USA Technical Support
Web site: Empire Interactive USA
In Europe:
In UK:
Empire Interactive,
677 High Road,
North Finchley,
London, N12 0DA.
| | |
| --- | --- |
| Technical Support: | +44-(0)181-343-9143 Monday through Friday 9:30am to 6:00pm GMT |
| Fax Support: | +44-(0)181-343-7447 |
Internet Support: Empire Interactive UK Technical Support
Web site: Empire Interactive UK
In France:
Ubi Soft
28, rue Armand Carrel
93108 Montreuil sous Bois Cedex
| | |
| --- | --- |
| Technical Support: | +33-14857-0554 |
| Fax Support: | +33-14857-6291 |
Web site: Ubi Soft
All content Copyright © 1994, 1995, 1996, 1997 Coming Soon Magazine, Inc. All Rights reserved.