ACTIVISION GEARS UP TO REDEFINE COMBAT-SIMULATION GENRE WITH NEW GIANT-ROBOT, ROLE-PLAYING UNIVERSE -- HEAVY GEAR
Long-Term License Agreement with Target Games Grants Activision Exclusive Interactive Rights to Heavy Gear Universe for Ten Years with Two Five Year Options
Los Angeles, CA, January 20, 1997 -- Having firmly established its position as a leader in the combat-action genre with its best-selling MechWarrior products, Activision, Inc. (Nasdaq: ATVI) has entered into a long-term license agreement with Target Games to acquire the exclusive worldwide interactive rights to the Heavy Gear giant-robot role-playing universe. According to the November issue of Comics Retailer Magazine, Heavy Gear was ranked the fourth largest role-playing game series in the marketplace.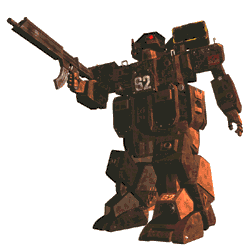 Under the terms of the agreement with Target, Activision will acquire all interactive rights to the Heavy Gear universe for ten years with two additional five year options. Additionally, the agreement allows Activision to develop an unlimited number of titles for a variety of platforms. The company expects to release its first Heavy Gear-based title in Fall 1997. Activision also will continue to garner revenues and market share in the 3-D combat simulation genre through technical and visual enhancements to its broad catalogue of MechWarrior products.
The first Heavy Gear game will be developed by many of the key designers, programmers and animators who contributed to the success of Activision's MechWarrior products. The first title will build upon Activision's market-proven proprietary 3-D real-time engine technology used to develop the MechWarrior products and will feature significant enhancements that will deliver explosive non-stop gameplay to engulf players in full-scale mega-ton warfare.
"Our Heavy Gear-based games will be the next generation of giant-robot simulation games," stated Bobby Kotick, Chairman and CEO, Activision, Inc. "This agreement gives us the flexibility to continue expanding and refining the combat-action genre over an extended time period. Additionally, we will now be able to help shape a very robust giant-robot universe that is only beginning its mass marketing campaign."
Based on the popular Heavy Gear role-playing games created by Dream Pod 9, the first title will be set on planet Terra Nova, a planet populated by expatriates from Earth. Players must embark on a crusade of heavy- metal mechanical combat in the opening chapter of an epic confrontation.
"Activision will spearhead and contribute to the marketing plans that Target Games has for the Heavy Gear property, which includes animated and live action entertainment, novelizations and comic book publishing as well as merchandising collectible toys," stated Fredrik Malmberg, president, Target Games.
# # #
Activision, Inc. is a publicly held developer and publisher of interactive entertainment software for Microsoft Windows and MS-DOS-compatible, Macintosh and other computers, as well as Nintendo, Sega, and Sony PlayStation game systems. Headquartered in Los Angeles with offices in London, Tokyo and Sydney, the company sells and markets products under the Activision and Infocom trade names.
All content Copyright © 1994, 1995, 1996, 1997 Coming Soon Magazine, Inc. All Rights reserved.