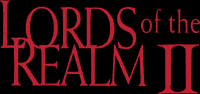 by
From one sequel to another, it is rare to find one that benefits by as many improvements as Lords of the Realms 2 (LOTR2) did. The sequel to the successful Lords of the Realm, developed by Impressions and published by Sierra On-Line, shines by the impressive range of new features, which those who were anxiously awaiting for its release will rejoice, and appeal as well for real-time strategy aficionados.
LOTR2's story starts in the year 1268 just after the King died. Without a heir for the throne of England, the country is only a mere image of the united land it was, and the struggle for the throne has never been so fierce with the incessant wars between nobles ravaging the country. Now has come the time to restore the lost unity, and you alone can accomplish this difficult task. With only one single county at the beginning, you must thrive the land and its inhabitants, raise armies, conduct battles and conquer the other territories, in order to prove your valor and ultimately, access the throne of England.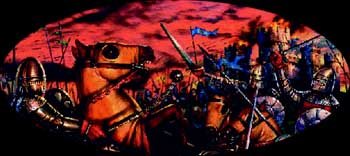 If LOTR2 is still a turn-based game for the county management part, battles and sieges are instead handled in real-time, with enough action to make any Warcraft fan jealous. As a matter of fact, battles in LOTR2 play the same as the likes of Warcraft, exploiting the same simplicity to select and control your units on the battlefield. However, even though battles and conquests play an important part during the game, you spend most of your time managing your territories.
While the basics of LOTR2 can be assimilated in a relatively short period of time, learning how to successfully balance the different sectors of your economy remains a question of experience. Only by trying various politics, you will find one that works well for you. The economy in LOTR2 is based on several resources (cows, grain, wood, iron ore and stone) that you must produce to ensure a thriving and healthy population. Some are however more vital than others, such as cows and the grain. In each of your counties, you will need to decide how many fields will be seeded with grain culture, occupied by cattle and left in fallow. It is possible to feed your peasants with dairy products or grain and beef only, but the best is still to use a combination of the three. This way you will depend less on unexpected events such as cattle disease or weather catastrophes. A slider bar will allow you to easily select the proportion of each, giving indications on how many quantities of each will be eaten and how many serfs will be fed each turn.
While most counties can produce wood and iron ore, only a few have stone quarries. Should not you have one in your county in the beginning, your priority will be to conquer a county with a stone quarry, otherwise you will be forced to buy stones at an outrageous price from the itinerant merchant. Woodcutters and miners will provide the blacksmith respectively with wood and iron ore, to produce weapons, while stones in conjunction with wood, will serve for the construction of castles. As the construction requires a specific number of builders, you will need to allocate a part of the population to their new task, which may deprive some sectors of the economy of their labor force. Like for the food repartition, a slider bar has been added to let you adjust the labor allocation between the food and industry production. You can also move peasants from one activity to another by clicking on the town center in each county, but once you start using the slider bar, you will find it easier to manipulate.
The difference between the five castles that you can build in LOTR2 is not only a question of cost, size, and time required for the construction, but also a question of strategy. While the wooden palisade and the motte & bailey will provide your county with a rudimentary protection, it is weak compared to what the Norman keep, Stone castle or even the Royal castle can provide, not to mention the higher taxes you can collect, and the greater garrison you can maintain. The other advantage is that stone walls are more resistant to catapults than their wood equivalent. A castle with a moat and a drawbridge offers another difficulty to your enemy who will need to fill a part of the moat before reaching the walls. Meantime, your archers will be able to inflict severe damage to the enemy's troops while they are protected by the ramparts. If the enemy gets too close to the walls, you can dump one or several cauldrons of boiling oil on to the troops, which is often deadly. Be sure to protect the flag on your castle, because if it's captured by the enemy, you will lose the battle!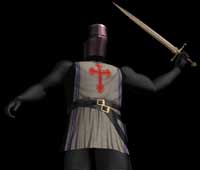 Knight

To protect your castle and county, you must raise armies, either by paying mercenaries or by the conscription which consist in a forcible service for your peasants. Unfortunately, the more you recruit peasants, happiness will decrease in the county where you raise the army. If happiness becomes too low, riots may happen or the population may drastically drop, notably by emigration to neighboring counties, which will cause an imbalance in the local economy. Once you have chosen the number of peasants to recruit, you will need to equip them all, or at least some of them if you don't have enough weapons. The choice of weapons is limited, but they were in the Middle Ages! Maces, pikes, bows & arrows, crossbows, swords and chain mails will equip your peasants, and transform them into pikemen, archers, knights and others. Notice that an army of peasant, even of 500 men or more, can be easily defeated by a small group of archers or swordsmen, hence outlining the importance of the weapons' production in LOTR2.

Before a battle, you will be presented with a screen detailing the forces of each army, and the choice to take the field or let the program handle the battle for you. Conducting the battle yourself is often a better choice, especially when you have acquired experience, and learnt a few winning tactics that the computer won't probably perform when commanding your troops. As in Warcraft, you can select an entire group of units, and designate on the map where they should head to, or which target they should attack. Advanced players will even be able to use the keyboard to assign numbers to groups that you can recall by a single key stroke, or order units into one of the two formations (vertical & horizontal). At the contrary of Warcraft, units in LOTR2 can represent more than one soldier, and the selection is not limited to a group of nine units. As unit's size will vary from one battle to another depending the size of armies, the colored bar above each unit will be an indication of how many soldiers are left in the unit rather than a health status. This means you can't have injured soldiers in your armies, they are either fighting or dead! If an army has suffered heavy losses, you can reinforce it by combining the force of another army, but you can also disband it and create a new one in another county.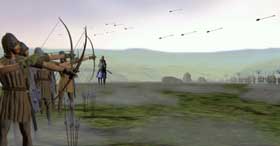 Archers in action

The improvements in LOTR2 don't only concern the game play, but also the graphics and the sounds, passing from an above view to a 3D isometric perspective with CD quality sound in the background. The view will change according to the seasons with greenish colors for Spring and Summer, golden tints for Autumn, and snow covering the land during the Winter. Fields will also change from one season to another, indicating the grain's growth until it is harvested in Autumn. In the 3D view, you can also see your armies and those from your enemies, the itinerant merchants, castles in construction, villages, roads, cattle, mines, forests, mountains and stone quarries. If you click either on the castle, mine, forest or stone quarry, you can turn that activity on or off, while clicking on one field will allow you to switch the farming to grain, cow breeding or fallow. The music in LOTR2 inspired by songs of the Middle Ages, and the various sounds faithfully reproducing the ambiance of the epoch, accompany you throughout the game, while speech guides your first steps in the beginning of the game.

But the multi-player option is certainly the feature that will appeal for most players. With up to five players on a LAN network, and two with a serial or modem connection, LOTR2 is even better in the multi-player mode. Chat will replace diplomacy, which in the single-player mode, only consisted of sending gifts and messages, and forming alliances with the four other AI players (Knight, Countess, Bishop and Baron). Advanced modes such as exploration, advanced farming and army foraging increase the difficulty of the game. The exploration option covers unexplored areas with a dark veil, advanced farming adds weather and fertility parameters, and army foraging turned on will have you feed your armies.
Conclusion:
Either in single or multi-player mode, Lords of the Realm 2 has it all to plunge you into the medieval world for the conquest of the throne of England. Its easy interface and short learning curve, ideal for newcomers, coupled with winning graphics and beautiful cinematics, will draw you into the game. If strategy and management are your priorities, go for it!

Written by Frederick Claude

Click here for screen shots.

Ratings:
Graphics:
85%
Sound:
90%
Music:
87%
Gameplay:
88%
Interest:
90%
Overall:
88%
System Requirements:
DOS Configuration
486 DX2-66MHz processor or faster,
Min 8MB memory,
Hard disk,
Triple speed CD-ROM drive or faster,
Local Bus SVGA video card,
Microsoft mouse or 100% compatible,
Most popular sound cards with DAC supported.
Windows Configuration
Pentium 75Mhz or faster,
Min 12MB memory,
Hard disk,
Triple speed CD-ROM drive or faster,
Local Bus SVGA video card,
Microsoft mouse or 100% compatible,
Most popular sound cards with DAC supported.
Developers
Impressions.
Publishers
In North America:
Sierra On-Line Inc.,
P.O. Box 85006,
Bellevue, WA 98015-8506.
| | |
| --- | --- |
| Technical Support: | 206-644-4343 Monday to Friday 8:00am - 4:45pm PST |
| Fax Support: | 206-644-7697 |
| BBS Support: | 206-644-0112 |
| Hint Line: | 1-900-370-5583 $.75 per minute |
| Canadian Hint Line: | 1-900-451-3356 $1.25 per minute |
Web site: Sierra On-Line
In Europe:
In UK:
Sierra On-Line Ltd.,
2 Beacontree Plaza,
Gillette Way, Reading,
Berkshire, RG2 0BS.
| | |
| --- | --- |
| Technical Support: | +44-(0)118-9209111 Monday to Friday 9am to 5pm GMT |
| Fax Support: | (+44)-(0)118-9875603 |
| Hintline: | (0)891-660-660 45p per minute cheap rate, 50p per minute at other times |
Web site: Sierra On-Line UK
In France:
Coktel Vision,
Velizy Zone d'Emplois,
Immeuble Le Newton,
25, rue Jeanne Braconnier,
92366 Meudon La Foret.
| | |
| --- | --- |
| Technical Support: | (+33)-(0)1-46014650 |
| Fax Support: | (+33)-(0)1-46317172 |
| BBS Support: | (+33)-(0)1-46324290 |
| Hintline: | 08-3668-4650 2.19FF per minute |
Web site: Sierra On-Line France
In Germany:
Sierra-Coktel Deutschland,
Robert-Bosch. 32,
63303 Dreieich.
| | |
| --- | --- |
| Technical Support: | (+49)-6103-994040 |
| Fax Support: | (+49)-6103-994035 |
| Hintline: | 0190-515616 0.23DM per 12 seconds |
Web site: Sierra On-Line Germany
In Spain:
Sierra-Coktel Espana,
Calle Tomas Redondo 11F,
Edificio Indo Building, Luarca,
28033 Madrid.
All content Copyright © 1994, 1995, 1996, 1997 Coming Soon Magazine, Inc. All Rights reserved.