by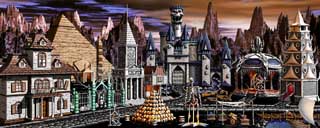 Necromancer Castle

Even though three years have passed since the mighty Lord Ironfist passed away, the succession war between his sons is still running. The prelude to this tragic story began when the Royal seer died in a boating accident, just before he could designate who among the two sons of Lord Ironfist would become king. His successors weren't any luckier. They all died in similar curious accidents, one falling from a window, another slain by a dragon, and the third poisoned. Accused by his brother Archibald of the four mysterious deaths, Roland fled the castle, which provided Archibald with the best time to influence the new Royal seer. Not surprising, he later proclaimed himself King.

In Heroes of Might & Magic 2, you will be given the choice to start a single scenario, play an entire campaign or try the various multi-player possibilities offered by the game. There are 36 scenarios available, which provide players with a wide range of difficulties, based on the size of the map, number and level of opponents. You can also adjust the AI level, which will bring an additional difficulty for experienced players. Some of the scenarios (especially those with an extra large map) are quite time consuming, and will be completed only after dozens of hours of fierce combats and cunning strategies. Thanks to the save option, you will be able to continue your game from where you left off. There are no limits as to how many times you can save a game, and the size of each saved game is quite reasonable. While each scenario can be played independently from one to another, the campaign mode contains a series of scenarios that are linked together. Whether you choose to support Archibald or Roland in their struggle for power, twelve scenarios of increasing difficulty await you in each campaign. However, if you have what it takes to play in multi-player mode, you should jump into it directly. Heroes of Might & Magic 2 allows IPX and TCP/IP network connections, respectively for LAN networks and Internet game play, modem and serial connections, and the possibility to play on a single computer with the Hot Seat option. Depending which scenario you choose, up to six players can play together, pitting each player's armies against the others for total domination.

Heroes of Might & Magic 2 (HMM2), as its name indicates, takes place in the world of Might & Magic, the same universe on which the award-winning series "Might and Magic" from New World Computing is based on. Inhabited by mighty and legendary creatures and packed with riches and ancient artifacts, the world of HMM2 is a bonanza for adventurers looking for fame and glory. However, HMM2 is not an role playing game, but a turn-based strategy title where you will scour the land for resources, treasures and magic objects, manage your towns and castles, and fight the numerous armies led by your enemies.

As you debut the game, you will play as one of the six character types, namely Barbarian, Warlock, Sorceress, Knight, Wizard and Necromancer, the last two being new additions to HMM2. Each has its own castle style, inhabited with specific creatures that you can recruit on payment of gold, with an extra few gems or sulfur for some. Even though some units differ by the color and characteristics, the number of units in HMM2 is impressive, especially when you consider that each creature is animated during battles. With a total of 66 units ranging from defenseless peasants to ruthless dragons and titans through unicorns, trolls, orcs, cyclops, wolves, vampires, and many others, players will have more than enough to recruit and build armies. But before, you will need to gain enough gold and raw materials to expand your castle and join new units into your ranks. The resources, divided into seven categories (wood, sulfur, crystal, ore, gems, mercury and gold) are provided either by mines or facilities, that you can take control of if you move one of your armies to its location. Once you own it (your flag will appear), you will receive a specific amount of that resource each turn. It is highly recommended to gain control of the maximum number of mines from the beginning, so that you can quickly build new structures in your castle, and strengthen the garrison with additional units.

Each player starts with one hero that comes with a few units. You can add units to the hero's army, but the types of creatures are limited to five, as so is the garrison. Exchanges are possible within the castle between the garrison and one army, and also in the open land between two heroes' armies, should you need to reinforce an army or combine forces. Note that you can't leave a hero alone, as there must be at least one accompanying unit. In any case, exploring the land with a weak army is not the best option you can choose, as most valuable treasures and objects, and mines are generally well defended by various creatures. The control of the armies on the adventure screen is easy, and the interface well built. Whenever you need information or have doubts about anything you see, just right click the mouse when the mouse icon is over it, and you will get an answer to your questions. Whether it is an enemy's army, guarding creatures, part of the landscape, city or castle, you will have an idea of what you just have encountered. As the game is turn-based, beware not to approach an enemy's army too close, unless your forces are superior, as when you will end your turn, the enemy will attack you without a doubt if he or she can. One last word about the land exploration. If from the start, you could see the entire land on the map, there would be nothing left for adventure, and you could directly head towards the richest mines and dig out the most artifacts. Fortunately, a dark veil over uncharted territories will prevent you to peer through its darkness, unless you explore the area first. Not only will it hide the landscape below, but also the displacements of your adversaries.

During battles, your heroes will gain experience based on how strong your adversary you just defeated was. As you accumulate enough points and reach a new level of experience, you will be able to learn secondary skills. Besides two basic skills, different for each character's type, heroes can master eight skills of the fourteen available, ranging from path finding to diplomacy through necromancy, mysticism, navigation and leadership. These additional skills have three levels each (basic, advanced and expert) and greatly improve the heroes's characteristics and their armies. Magic is also an efficient weapon in HMM2 that each hero can use, should he or she have what is necessary to cast spells. Grouped into five levels, the spells can be learnt in the mage guilds that you must build in your castles if you want your heroes to learn them. They will also need a spell book, and the wisdom skill to cast spells superior to those of level 2. With 65 different spells available, you will never run out of choices, the only thing that can happen to you is that you don't have enough spell points. New to HMM2, each time you cast a spell, your spell points will decrease by a certain number that depends on each spell. Fortunately, you can replenish your spell points in various locations such as wells. A few spells can be cast from the adventure screen, to reveal mines, heroes, artifacts or simply everything for example, but for the most, they will only be available during combats where they are accompanied by visual and sound effects of the best kind.

The combats in HMM2 can be controlled by the player or by the computer. If you are tired of maneuvering your troops, just click on the AUTO button and the computer will control your units on the battlefield. However, it will not use any spells that your hero can cast, and I found most of the time that the computer was not as good as it should be. Battles are handled in terms of speed, the fastest creature being the first to attack. If there is any tie in speed, the attacker will have the priority, otherwise the order will go from the fastest to the slowest, alternating between the attacking and the defending units. Heroes can cast a spell every turn, and only once at a time, with the possibility to affect several non-contradictory spells to one creature. Finally, moats, right and left turrets added to a castle will provide the defenders with a better protection during sieges, as well as a captain's quarters.

Both combats and exploration phases are beautifully rendered with SVGA graphics that are exquisitely detailed and well animated. You can identify any creature on the adventure screen with just a glance, and they appear exactly like they should, rivaling in realism and colors. To top all this, HMM2 features an excellent and pleasant soundtrack, with numerous melodies that change according where you are on the map. The sound can be played directly from the CD or through the MIDI extension of your sound card, but the CD audio is by far the best option. Harps, piano, vocals and other instruments will combine harmoniously into over 50 minutes of relaxing and new age style music, featuring opera-like sounds for a few tracks.
Conclusion:
The sequel to one of the best strategy games of 1995 couldn't have been better. The game is utterly addictive, and its potential remarkable, especially with the powerful world editor that will let you build your own scenarios. Not only will it be a fine addition into your software library, but also a great game to play alone or with friends.

Written by Frederick Claude

Click here for screen shots.

Ratings:
Graphics:
90%
Sound:
90%
Music:
93%
Gameplay:
88%
Interest:
91%
Overall:
90%
System Requirements:
DOS Configuration
486 DX2-66MHz processor or faster,
DOS 5.0 or higher,
Min 8MB memory,
Hard disk with 50MB free space,
Double speed CD-ROM drive or faster,
SVGA video graphic card,
Microsoft mouse or 100% compatible,
Most popular sound cards.
Windows 95 Configuration
486 DX2-66MHz processor or faster,
Windows 95,
Min 8MB memory (16Mb recommended),
Hard disk with 50Mb free space,
Double speed CD-ROM drive or faster,
SVGA video graphic card,
Microsoft mouse or 100% compatible,
Most popular sound cards.
Note: Requires your system to have the latest Windows 95 drivers that can fully support Microsoft's DirectX if you install the Windows 95 version.
Developers & Publishers
In North America:
New World Computing,
P.O. Box 4302,
Hollywood, CA 90078.
| | |
| --- | --- |
| Technical Support: | 818-889-5650 Monday to Friday 9:00am - 12:00pm & 2:00pm - 5:00pm PST |
| BBS Support: | 818-889-5684 1200, 2400 and 14,400 bauds |
| Order Line: | 800-325-8898 (415-261-3227) 24 hours a day, seven days a week |
Web site: New World Computing
Internet support: New World Computing Technical Support
Distributors
In France:

Ubi Soft
28, rue Armand Carrel
93108 Montreuil sous Bois Cedex
| | |
| --- | --- |
| Technical Support: | +33-14857-0554 |
| Fax Support: | +33-14857-6291 |
Web site: Ubi Soft
All content Copyright © 1994, 1995, 1996, 1997 Coming Soon Magazine, Inc. All Rights reserved.