by
After a short opening movie, the second adventure of Freddi Fish starts. This time Freddi and her friend Luther go to school. But - and altogether very fortunately, it's not going to be the usual teaching routine. A ghost has broken into the school and has stolen all the toys from the Guppies. During the adventure Freddi and Luther must find different objects that will enable them to build a trap to catch the ghost. Eventually they must bring back all of the stolen toys to their owners. Some of the known characters that were already present in the first Freddi Fish such as Eddie the Eel, Ray the Manta and the sharks Boss and Spongehead, are back again in the new episode.
As with the first Freddi Fish adventure, a number of entertaining games have been included that can be played at any time along the way. They are much more varied than those in the previous game. For example, in Mrs. Croaker's classroom, children can create artwork using colorful chalks and pre-made stamps for letters and shapes. Moreover, their creations will stay on the board so that everyone can admire it, and they can even print them on paper. In the fabulous Atlantis, a sliding picture puzzle that sits on the ceiling of an ancient building is great fun to solve, although it might be a little difficult for small kids. Fortunately they have all he time in the world to complete it.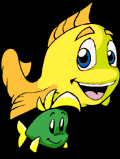 Freddi Fish and Luther

Freddi Fish 2 also features a small arcade game where children must knock out a bunch of crabs by spraying water to prevent them from reaching the bottom of the rock. Successive waves of crabs becoming faster will challenge children's reflexes as they control Luther. In the theater, Freddi Fish and Luther will be able to watch short silly movie previews with movie names such as Codzilla, Garzan and Codfish Commando. During the previews, children can click here and there which will bring surprising results on the screen. Throughout the game, kids can click nearly everwhere for instant rewards taking the form of animated surprises and sounds. In general, the more you click in the game, the greater the fun is.

Like Freddi Fish, the game features beautiful colorful environments ranging from ships and submarines to the mythic Atlantis that children will need to explore. Once more, thousands of hand-draw animations were specifically created for the game, bringing new lovable and friendly characters to life for the child's enjoyment. They will meet the schoolteacher Mrs. Croaker, Casey, considered as the Einstein of the aquatic world, Tucker Turtle, the fastest turtle, and plenty of others. Additionally, kids will sing-along with eight of the main characters who will perform over 50 different songs.

Every time children play with Freddi Fish 2, not only does the location of the objects they need to recuperate change, but the list of necessary items itself will be different, following the same game philosophy found in Pajama Sam which greatly extends the game's longevity. Intended for children aged between 3 and 8, Freddi Fish 2 doesn't require any reading skills at all, even small children will be enthusiastic and able to help Freddi and Luther during their aquatic adventure.
Conclusion:
Whereas Freddi Fish and the Case of the Missing Kelp Seeds was regarded as a milestone in interactive adventure games for children, a worthy successor is here, Freddi Fish 2: The Case of The Haunted Schoolhouse. The newcomer from Humongous Entertainment is once again a brilliant combination of an instructive and adventure game with plenty of action, excellent graphics and superb sound effects. It is of outstanding quality and certainly worth the investment.

Click here for screen shots.

System Requirements:
PC Configuration
IBM-PC 486 DX2/33 Mhz or faster processor,
Min 8Mb memory,
Windows 3.1 or Windows 95,
Double speed CD-ROM drive or faster,
256-color SVGA video graphic card,
Microsoft compatible mouse.
8-bit MPC compatible sound card.
Macintosh Configuration
68040 (25MHZ or faster) Macintosh or Power PC,
System 7.0 or higher,
Min 8Mb of RAM,
Double-speed CD-ROM drive or faster,
640x480 256 colour video display.
Developers
Humongous Entertainment,
16932 Woodinville-Redmond Road NE,
Woodinville, WA 98072.
| | |
| --- | --- |
| Technical Support: | 206-485-1212 |
| Order Line: | 1-800-499-8386 |
| | 408-375-3811 |
Technical Support: Humongous Entertainment Technical Support
Web site: Humongous Entertainment
Publishers
In North America:
See developers.
In Europe:
In UK:
Electronic Arts UK Ltd.,
P.O. Box 835,
Slough, Berkshire, SL3 8XU.
| | |
| --- | --- |
| Technical Support: | +44-(0)1753-546465 |
In France:
Ubi Soft
28, rue Armand Carrel
93108 Montreuil sous Bois Cedex
| | |
| --- | --- |
| Technical Support: | +33-14857-0554 |
| Fax Support: | +33-14857-6291 |
In Pacific:
In Australia:
Electronic Arts Pty. Ltd,
P.O. Box 432,
Southport, Qld 4215.
| | |
| --- | --- |
| Technical Support: | 1-902-263-163 2.00 per min Seven days a week 8:30am to 10:30pm |
| Game play, hints and tips: | 1-902-262-062 1.00 per min |
Ratings:
Graphics:
95%
Sound:
88%
Music:
90%
Gameplay:
90%
Interest:
92%
Overall:
92%
All content Copyright © 1994, 1995, 1996, 1997 Coming Soon Magazine, Inc. All Rights reserved.