by
Since its introduction in 1990, over 1.5 million copies of the ADI series were sold throughout the world, bringing an exciting learning method to children from 7 to 15. Considered today as a product of reference in the edutainment field, the ADI series, available in several languages (French, English, German, Spanish, Italian), will accompany your children in the learning of mother and foreign languages, mathematics and geography. For the youngest, Sierra recently added the new character of Adiboo who is ADI's cousin, to help them to learn the basics of reading and counting. Available in two versions, each adapted to a specific age range (4-5 and 6-7), "Adiboo: I can read, I can count!" is a treasure of creativity that will never cease to surprise you.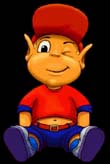 Adiboo contains two different CD's, one labeled Environment and the other, Application. When starting the program, the child will discover the central garden screen from which he or she can access various other places. In the vegetable garden, they will be able to plant seeds and watch them grow as time passes. They will learn that if they don't water the plants, vegetables can wither. When vegetables ripen, Robbytock the robot gardener will pick them upon the child's request, and bring the fresh tomatoes, spinach, carrots, strawberries and wheat to the kitchen inside the house. Among the other places are the flower garden, hollow tree and the house. In the first, kids will have to maintain flowers so that the bees can collect pollen and make honey in the hive. But first in the hollow tree, they will need to choose which hive they want to build. From there, they will also be able to pick up a nest for the birds, and a kennel for Pup, the dog on a suction pad. Once they enter the house, children will be dazzled by the collection of games and activities they can play with. First, the Adiboo radio will broadcast the latest news (birth of a baby bird, special events such as Christmas, Easter or Birthday) and tell jokes that will entertain them. If they prefer watching TV, the Adiboo TV will provide them with twelve cartoons including the Adiboo song and the Three Little Cats story. They can even listen to their favorite tunes with a choice of CD's that change according to the season.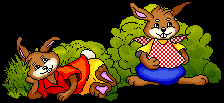 Four games are accessible from the house: the portrait, construction, animated jigsaw and wall games. The portrait game is actually two games in one. With the freehand option, they can create funny characters very easily, while the main game will exercise their recognition and memory skills. In the construction game, children will produce their own animated story using backgrounds, buildings and characters of the "Playtoons" range, another series from Sierra Edutainment. The animated jigsaw is a classic toy, but never out of date. Depending on the level of difficulty they chose, the number of pieces will vary from 9 to 20. Finally, the wall game is perfect to test reflexes, the difficulty level reducing the size of the racket when it's increased.

Next to the kitchen door is the paint box. With this drawing tool specially adapted to children, but using most of the functionalities found in traditional paint programs, there will be no boundaries to their imagination. Children can choose various backgrounds, or pictures to color in, as well as dozens of items and characters in a clip-art, to insert into their creations, before printing them out on paper, or sending them to Adiboo. It will then be delivered to Adiboo's mailbox.
In the kitchen, Keecook the robot cook, helps children to make delicious recipes. A selection of 12 recipes from a chocolate souffle or cherry pie to a spinach pie and royal pizza awaits the gourmets. Each recipe is illustrated with pictures of the ingredients and can be printed out. Finally, children can play with Keecook in the kitchen game that consist of retrieving the ingredients Keecook shows from the fridge. Once the meal is done, various decorations such as candles, parasols, etc... can be added, before it is eaten by some character of the game.
The second disk which contains the school support will be required when children want to visit the land of knowledge. Either you use the 4-5 or 6-7 package, there will be two applications, each containing fifteen different activities. The reading application will solicit observation, listening, memory and writing skills, while the mathematical one will emphasize on comparisons, numbers, spatial relations, counting and problems. There isn't one activity in Adiboo that is similar to the other. When they have successfully completed one activity, children are rewarded by little tunes sung by Adiboo himself, with musical themes inspired by numerous country songs. And to track the child's progress, statistics will point out in which matter they need to improve, the ultimate reward being a diploma, issued when they pass all the activities in one application.
Conclusion:
Designed by a team of teachers and psychologists, the program offered by Adiboo is complete, entertaining and most important, follow the national school programs in each respective country. Children will not only find a wonderful way to learn with Adiboo, but also an excellent occasion to amuse themselves with funny characters, a wealth of graphics and animations, and cute little songs.

Written by Frederick Claude

Click here for screen shots.

Ratings:
Graphics:
90%
Sound:
85%
Music:
88%
Gameplay:
90%
Interest:
94%
Overall:
90%
System Requirements:
PC Configuration
IBM-PC 486 DX2/66 Mhz or faster processor,
Min 8Mb memory,
Windows 3.1 or Windows 95,
Hard disk drive with 4Mb free,
Double speed CD-ROM drive or faster,
256-color SVGA video graphic card,
Microsoft compatible mouse,
MPC 2 compatible sound card.
Macintosh Configuration
68040 (40MHZ or faster)or Power Macintosh,
System 7.1 or higher,
Min 8Mb of RAM,
Double-speed CD-ROM drive or faster,
640x480 256 colour video display with 13" monitor.
Developers
Coktel Vision.
Publishers
In North America:
Sierra On-Line Inc.,
P.O. Box 85006,
Bellevue, WA 98015-8506.
| | |
| --- | --- |
| Technical Support: | 206-644-4343 |
| Fax Support: | 206-644-7697 |
| BBS Support: | 206-644-0112 |
| Hint Line: | 1-900-370-5583 $.75 per minute |
| Canadian Hint Line: | 1-900-451-3356 $1.25 per minute |
Web site: Sierra On-Line
In Europe:
In UK:
Sierra On-Line Ltd.,
4 Brewery Court,
The Old Brewery, Theale,
Reading, Berkshire, RG7 5AJ.
| | |
| --- | --- |
| Technical Support: | +44-(0)1734-303171 Monday to Friday 9am to 5pm GMT |
| Fax Support: | (+44)-(0)1734-303362 |
| BBS Support: | (+44)-(0)1734-304227 |
| Hintline: | (0)891-660-660 39p per minute cheap rate, 49p per minute at other times |
In France:
Coktel Vision,
Velizy Zone d'Emplois,
Immeuble Le Newton,
25, rue Jeanne Braconnier,
92366 Meudon La Foret.
| | |
| --- | --- |
| Technical Support: | (+33)-(0)1-46014650 |
| Fax Support: | (+33)-(0)1-46317172 |
| BBS Support: | (+33)-(0)1-46324290 |
| Hintline: | 08-3668-4650 2.19FF per minute |
In Germany:
Sierra-Coktel Deutschland,
Robert-Bosch. 32,
63303 Dreieich.
| | |
| --- | --- |
| Technical Support: | (+49)-6103-994040 |
| Fax Support: | (+49)-6103-994035 |
| Hintline: | 0190-515616 0.23DM per 12 seconds |
In Spain:
Sierra-Coktel Espana,
Calle Tomas Redondo 11F,
Edificio Indo Building, Luarca,
28033 Madrid.
All content Copyright © 1994, 1995, 1996, 1997 Coming Soon Magazine, Inc. All Rights reserved.