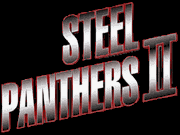 by
Among the eagerly awaited strategy games this season, the sequel to the highly acclaimed Steel Panthers was definitely one of the most wanted. Fortunately, after a year of feverish wait, the game is finally available. In Steel Panthers 2, players will take over the commands and be given a chance to continue the hostilities beyond the second World War. Over 50 scenarios spreading from 1950 to 1999 will engulf the players into the modern battles of the second half of the 20th century.
Steel Panthers 2 won't be a big surprise for those who are familiar with the first title as both the interface and graphics are very similar to what they were in Steel Panthers. Still, players will once more enjoy the remarkable SVGA graphics, as well as the digitized video footage that introduces the modern combat units included in Steel Panthers 2.
While Steel Panthers had its scenarios retracing some of the most important battles of the second World War, Steel Panthers 2 allowed itself some freedom by adding a variety of hypothetical scenarios to a series of authentic battles. The 51 scenarios grouped into six campaigns will cover the Korea War in 1950, the war between Israel and Syria in 1973 (Golan Heights), and the Desert Storm operation in 1991; the other scenarios involving hypothetical conflicts (World War III starting in Germany in 1980, Invasion of Taiwan by China in in 1997 and war between the US and Japan in 1998). If you don't find a scenario to suit your taste despite the wide selection that is offered, you can create your own scenario using the editor, or let the computer set a battle for you in the battle generator.
In the scenario editor, you can choose every aspect of the battle which of course starts with the terrain. Whether you decide to draw the map yourself or let the program create it randomly, you won't be disappointed by the endless possibilities of the editor. By either choosing desert, summer or winter conditions, the editor allows you to recreate any kind of battlefield you wish, carrying the realism to include roads, buildings, crop fields, swamps, rivers and more. New to Steel Panthers 2, you can now determine the light conditions during the battle, allowing your troops to fight in night, dusk or dawn environments. Once the map is completed, you must select the mission type covered by the scenario that ranges from meeting engagements to assaults against dug-in defenders. With over 40 different nationalities available, you will have far too much to choose from for the two sides, which will also be the case for the various armament of each army. Steel Panthers 2 includes over 50 tanks and 400 types of weapons, which will sometimes transform the unit selection into a lengthy task. The date of the battle you have selected will evidently condition the types of units available when you buy them; thus equipping your troops with a Falcon F-16 in the 60's won't be possible. Before you can actually play with your customized scenario, you will first have to choose the number of turns the battle will last, and decide if you will deploy your units yourself or use the auto-deploy option.
Through a few choices, the battle generator is a convenient way to quickly create a new battle for immediate action. If you don't have time to spend on designing a scenario of your own, but would like to experience other challenges than those included on the CD, the battle generator is there to help you. Furthermore, if you would like to create your own campaign without having to design scenarios and link them together, you can use the campaign generator. From there you will choose the starting and ending dates of the campaign, the number of battles within (up to 200), one of the 5 terrain types available (plains, forests, jungle, desert and mountains), and the nationality of your army and those for the 3 enemies you will encounter in the campaign.
Regarding game play, Steel Panthers 2 plays the same as its predecessor, except that your weapons will have extended ranges and will be far more deadly with modern technology such as guided-missiles and cluster munitions. The 3 levels of difficulty in Steel Panthers have been replaced by several parameters, which as in Age of Rifles, can be turned on or off to increase the realism of the battle, and therefore the overall difficulty of the game making it playable by either novices or serious gamers. Players will appreciate the realism of the game, its easy-to-use interface and the finely hand-drawn graphics. The weapons encyclopedia will provide players with a picture of each unit accompanied with various data on them which is very helpful for unit's selection.
Various animations will add life to the battlefield during scenarios. The terrain will be modified as armies fight against each other, leaving craters on the ground, buildings in ruins, smoke-screens, burning tanks, and other scars caused by conflicts. Among the several attacks you will also see on the screens are shells exploding on tanks, rifle shootings, missiles and chain guns in action. Digitized sounds will accompany these animations and each unit's move, and while those in Steel Panthers were already very good, they are simply fantastic in Steel Panthers 2. Sound effects like the CD soundtrack can be turned off in the preferences menu, but the military march style music pumps up the action in the game so much that it would be a crime to do so.
Conclusion:
With Steel Panthers 2, you will not only experience what it is to command a modern army, but also enjoy the same exciting game play that made Steel Panthers so popular. Once again, S.S.I. proved with Steel Panthers 2 that they have mastered the war games genre.

Written by Frederick Claude
System Requirements:
IBM-PC compatible computer with a 486 DX2-66 Mhz or faster processor,
Min 8Mb memory,
MS-DOS 6.22 or higher,
Hard drive required with at least 12Mb free,
Double speed CD-ROM drive faster,
1Mb SVGA VESA compatible video card,
Microsoft or Logitech mouse or 100% compatible.
Sound Blaster family and 100% compatibles.
Developers
S.S.I. Inc.,
675 Almanor Avenue, Suite 201,
Sunnyvale, CA 94086-2901.
| | |
| --- | --- |
| Technical Support: | 1-888-4-477-4669 Monday through Friday 11:00am to 5:00pm PST |
| Fax Support: | 408-737-6814 Attn: Technical Support |
| BBS Support: | 408-739-6137 (9600 - 33.6K baud modems) |
| | 408-739-6623 (2400 - 33.6K baud modems) |
| BBS in Canada: | 403-473-9131 or 408-472-0178 (2400 - 14.4K baud modems) |
Internet Support: S.S.I. Technical Support
Web site: S.S.I.
Publishers
In North America:
Mindscape,
88 Rowland Way,
Novato, CA 94945.
| | |
| --- | --- |
| Technical Support: | 415-897-9900 |
| Fax Support: | 415-897-2747 |
Web site: Mindscape
In Europe:
In UK:
Mindscape,
Priority House,
Charles Avenue, Maltings Park,
Burgess Hill, West Sussex RH15 9TQ.
| | |
| --- | --- |
| Technical Support: | +44-(0)1444-246333 |
| Fax Support: | +44-(0)1444-248996 |
Web site: Mindscape UK
In France:
Mindscape France,
74D Rue de Paris,
36069 Rennes Cedex.
| | |
| --- | --- |
| Technical Support: | +33-29987-5887 |
| Fax Support: | +33-29987-5888 |
In Germany:
Mindscape Germany,
Zeppelinstrasse 321,
45470 Muelheim A.D. Ruhr.
| | |
| --- | --- |
| Technical Support: | +49-208-9924100 |
| Fax Support: | +49-208-9924129 |
Ratings:
Graphics:
92%
Sound:
91%
Music:
89%
Gameplay:
93%
Interest:
91%
Overall:
91%
All content Copyright © 1994, 1995, 1996 Coming Soon Magazine, Inc. All Rights reserved.