by
Until today, there were only two titles worth mentioning for the PC if you were into arcade racing games, Fatal Racing (Whiplash in US) and Screamer. However, there is now a third one that in terms of graphics and speed, clearly wipes out all its competitors. Only a year after the first episode, Milestone previously known as Graffiti Studios, has done a wonderful job on the sequel which easily positions Screamer 2 at the top of the genre.
Angels team

When you play with Screamer 2 for the first time, you will be positively dazzled by the beauty of the graphics, and the speed at which the game runs. In addition to the regular VGA and SVGA modes using 256 colors, Screamer 2 also features the possibility to display thousands of colors which gives the textures an unparalleled lifelike realism. If your configuration is fast enough (Pentium 133 or faster), you will of course prefer the high-resolution over standard VGA graphics, which offers an incomparable view. The seven tracks (six + a bonus) of the game will walk you across six countries and three continents to offer you more diversified driving environments. You will thus experience snowy conditions in Finland, drive on the wet roads of England and make your way out on the muddy tracks of the Columbian jungle. The other circuits will send you on the sand covered roads of Egypt, through the streets of San Francisco in California and on winding roads in the Alps somewhere in Switzerland. Finally, the bonus track, only available after many hours of practice and championship, is an underground race taking place in tunnels with many twists and turns.

With its new 3D engine, Screamer 2 doesn't leave anything to envy from the likes of Ridge Racer or Sega Rally, especially when you play in SVGA with 65,000 colors. The scenery is gorgeous and features the most visually stunning scenery that I have ever seen in a racing game. If you thought Need for Speed had splendid landscapes, wait until you see those of Screamer 2. The scene of the Finnish track, for example, is nothing but amazing with snow covered trees, the road merely appearing from beneath the snow, and the snow effect itself is brilliantly rendered with pale blue-tinted colors just like in real life. Besides the vegetation and terrain's topology, there are many other details such as buildings, animals, and even spectators. The numerous buildings and edifices contained in Screamer 2 are remarkable by their realism and size ranging from small houses to skyscrapers, and it seems there are no two alike. Several are even animated such as windmills, a waterwheel, and a rotating donut sign over some kind of donut shop. The level of detail is undoubtedly surprising with trains circulating over bridges as the best proof.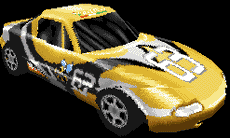 Spark

The speed is another strong key-selling point of the game. Although it will play fairly well in VGA resolution on a 486DX2-66, you will best enjoy the game on a Pentium. Like the original title, Screamer 2 is more into arcade than pure simulation, which also explains the exhilarating game play. Nevertheless, the developers have integrated a few concepts taken directly from simulations, so that the cars of the game don't only differ between their shape and maximum speed. Six parameters can be therefore altered to customize the car's behavior on the road: handling, brakes, tire type, type pressure, front and rear suspension. Once you selected your specific parameters, you can save them with a maximum of four different sets. Customizing the car is however only available while playing with the championship mode. Still, each car has its own characteristics that will change the way you drive from one to another, as you will see for yourself in the arcade mode.

If Screamer 2 is fun to play alone, it is even more exciting when competing with friends. The game offers several multi-player options that allow four players to race together on a LAN network, and two players through a serial link or on the same machine, this last option dividing the screen into two horizontal windows. Either you choose a single-player or a multi-player game, you will have two game modes, arcade and championship, a third one (time attack) being available when you play alone. At the beginning, you will only have the choice of three tracks, with additional circuits appearing when you win championships. Four bonus cars (one for each team) will become available during the game should you be successful in the four different championships.

After a race, you can always watch your performance with the replay. There you will have six possible camera views from a full screen to a dashboard view, which basically are the same as those offered during the game except for the front view and the view from another car which are only accessible during replay. The fast-pace driving is punctuated with a techno-like soundtrack throughout the entire game, coming directly through from the CD. There are eight audio tracks included in Screamer 2, and you can pick the track you want to listen at any moment during the race. Sound effects such as cheering spectators or howling of wolves in Finland will also be heard during races, adding to the overall realism of the game.
Conclusion:
Screamer 2 is a great sequel to the original title with amazing graphics and a speedy game play. Speed aficionados will be delighted with what Milestone achieved with Screamer 2 if they are looking for arcade racing. Others will still find the game visually impressive, but might regret the more accurate simulation of Need for Speed. In any case, when you see the Screamer 2 visuals, you might not resist to the temptation of buying it!

Written by Frederick Claude

Click here for screen shots.


Click here for the demo.
Ratings:
Graphics:
94%
Sound:
85%
Music:
89%
Gameplay:
91%
Interest:
85%
Overall:
89%
Developers
Milestone.
Publishers
In North America:
Virgin Interactive Entertainment,
18061 Fitch Avenue,
Irvine, CA 92714.
| | |
| --- | --- |
| Technical Support: | 714-833-1999 |
| Fax Support: | 714-833-2011 |
| BBS Support: | 714-833-3305 |
| Hint Line: | 1-900-288-4744 $.75 per minute |
Web site: Virgin Interactive Entertainment
In Europe:
In UK:
Virgin Interactive Entertainment (Europe) Ltd
2 Kensington Square
London W8 5RB
| | |
| --- | --- |
| Technical Support: | +44-(0)171-3682266 |
| Fax Support: | +44-(0)171-4682003 |
| BBS Support: | +44-(0)171-4682022 |
Internet Support: Virgin Interactive Entertainment UK
Web site: Virgin Interactive Entertainment UK
In France:
Virgin Interactive Entertainment,
233 Rue de la Croix Nivert,
75015 Paris.
| | |
| --- | --- |
| Technical Support: | +33-153681000 |
| Fax Support: | +33-140450199 |
| Hint Line: | 08-3668-9495 2.23 FF per minute |
Web site: Virgin Interactive Entertainment France
In Germany:
Virgin Interactive Entertainment GmbH,
Borselstrasse 16B,
22765 Hambourg.
| | |
| --- | --- |
| Technical Support: | +49-040-391113 |
In Spain:
Virgin Interactive Entertainment Espana,
Hermosilla 46,
28001 Madrid.
| | |
| --- | --- |
| Technical Support: | +34-(91)-5781367 |
| Fax Support: | +34-(91)-575458 |
All content Copyright © 1994, 1995, 1996 Coming Soon Magazine, Inc. All Rights reserved.