by
In this new adventure from Humongous Entertainment, the hero is Sam, a scary little fellow that is very afraid of the dark, even in his own bedroom when the lights must go out. But strengthened with the help of his favorite strip hero, Pajama Man, our little Sam will start a quest for Darkness, the embodiment of Fear itself and he will learn to overcome his aversion for the dark. However, before Sam can meet the frightening Darkness himself, he must first collect a number of useful items such as a lantern, a mask to disguise himself and a lunch box.
The story of Pajama Sam is based on the problem that every child comes across, such as being afraid of the dark even in familiar places such as their own bedroom. Plunged into the dark, toys, furniture and other decorations in the room can quickly become frightening objects in the imagination of children. Hopefully with Pajama Sam, children will have a chance to overcome this feeling. While highly enjoying the game, your child, boy or girl will readily identify him or herself with Pajama Sam as he becomes more confident and grows brave.
The game is very well made and effectively stimulates the imagination of the children. The screens are not overwhelmingly detailed, a bit like the images in a children's book, and therefore exactly the way kids aged between 3 and 8 appreciate it. The same is true for the high quality 3D graphics, that we have appreciated before in Freddy Fish and the Case of the Missing Kelp Seeds. Overall, there are 54 painstakingly hand-drawn interactive locations to explore in Pajama Sam, each offering plenty of amusing animations.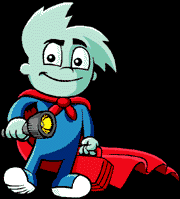 Pajama Sam

Pajama Sam is exciting and full of surprises. The situations are often very amusing and the children will regularly laugh. The ride in the gold-mine and on the waterfall produce kicks a bit like in a fun fair, and the puzzles included in the adventure offer a break during the quest for Darkness. Fortunately they are at a level above the "shoot, destroy or kill" level of many other children's games. Among the mini-games and other activities, you will find a multiple choice quiz (The Brain Tickler), an "avoid-eating-your-own-tail" pacman style game (Nuggets), and a Tic-Tac-Toe inspired activity (Cheese and Crackers). However, the animated click points are still the main feature with which kids will spend countless hours, exploring beautiful places such as the old gold-mine, the docks or the house of Darkness.
Random elements were introduced in Pajama Sam to keep the child's interest high over time, with for example, items located at different places every time they play with the game. Once children complete the game, they will discover up to ten new environments, featuring additional characters and slightly modified puzzles, providing the game with an extended lifetime. Also stimulating the child's attention is the background sounds and the music, that both fully support the action and offer sufficient diversity to not be boring at all.
Conclusion:
When you will hear the laughter and the shouting in the children's room while they play with Pajama Sam, you'll be convinced that this is the way all other Children Adventure games should be made. If you were wondering about a game to buy for your kids, don't look further, you have a winner with Pajama Sam.

Click here for screen shots.

System Requirements:
Microsoft Windows
IBM-PC 486 DX2/33 Mhz or faster processor,
Min 8Mb memory,
Windows 3.1 or Windows 95,
Double speed CD-ROM drive or faster,
256-color SVGA video graphic card,
Microsoft compatible mouse.
8-bit MPC compatible sound card.
Macintosh
68040 (25MHZ or faster) Macintosh,
Min 8Mb of RAM,
Double-speed CD-ROM drive or faster,
256 colour video display.
Developers
Humongous Entertainment,
16932 Woodinville-Redmond Road NE,
Woodinville, WA 98072.
| | |
| --- | --- |
| Technical Support: | 206-485-1212 |
| Order Line: | 1-800-499-8386 |
| | 408-375-3811 |
Technical Support: Humongous Entertainment Technical Support
Web site: Humongous Entertainment
Publishers
In North America:
See developers.
In Europe:
In UK:
Electronic Arts UK Ltd.,
P.O. Box 835,
Slough, Berkshire, SL3 8XU.
| | |
| --- | --- |
| Technical Support: | +44-(0)1753-546465 |
In France:
Ubi Soft
28, rue Armand Carrel
93108 Montreuil sous Bois Cedex
| | |
| --- | --- |
| Technical Support: | +33-14857-0554 |
| Fax Support: | +33-14857-6291 |
In Pacific:
In Australia:
Electronic Arts Pty. Ltd,
P.O. Box 432,
Southport, Qld 4215.
| | |
| --- | --- |
| Technical Support: | 1-902-263-163 2.00 per min Seven days a week 8:30am to 10:30pm |
| Game play, hints and tips: | 1-902-262-062 1.00 per min |
Ratings:
Graphics:
94%
Sound:
94%
Music:
93%
Gameplay:
92%
Interest:
95%
Overall:
94%
All content Copyright © 1994, 1995, 1996 Coming Soon Magazine, Inc. All Rights reserved.