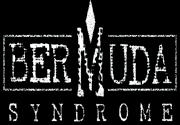 by
Bermuda Syndrome is a classic, hero-type adventure packed with dangerous dinosaurs some challenging puzzles and, of course, a half-naked princess to rescue and fall in love with. Oh, and she does come in handy for solving some of the puzzles... But to begin it is probably best to quote the enclosed literature:
"In 1942, the B-17 bomber Dirty Saly 42 is shot down near the Bermuda Triangle. Miraculously, pilot Jack J. Thompson crash lands on a mysterious island... and survives.
"Now he is trapped in another dimension, an unknown crevice in the time-space continuum where dinosaurs, snake-people and prehistoric tribes co-exist. And all Jack has to keep him alive is a knife and his wits..."
The opening movie is of our hero, Jack, flying off in a World War II type aircraft which gets caught in a dog fight and is shot down. As his plane comes hurtling out of the sky, we are treated to our princess, all tied up and ready to be lunch for a tyrannosaur. Fortunately for her, Jack's plane chops it's head off and we move on to the credits. After making sure we all know who's who, we are treated to some very rich images of Jack hanging from a tree by his parachute, with the princess still tied up on her platform. We are faced with our first puzzle, which is only a practice run as the solution is in the game's instructions. Once Jack cuts himself free, we are treated to the kind of animation that makes this game such a pleasure to play. Untie the princess and follow her. Once you've talked to her, you'll see that you're going to need to have her around. Once you've introduced yourselves, get the rifle out of the crate and you're off to an amazing adventure.
The controls are straight-forward and easy to master. Coordinating some of the moves can take some practice, so save your position. You'll get much further ahead if you save frequently. It's also less frustrating. Jack can be a little dense at times so talk to the princess if you're stuck. She'll help you through some of the trickier spots. Keep an eye out for objects you can interact with. A tiny screen will appear in the upper right hand corner when you encounter such an object. Don't ignore any of these. You may not get anywhere if you miss one. The game instructions mention a sword and how to use it. Don't get frustrated, it appears nearer the end of your adventure and is essential to fighting your way out.
The most delightful aspect of this game has to be the background scenery. Every panel is unique and represents enormous effort and talent. The animated effects are also a delight to behold. From the way Jack walks and smokes, to the dinosaurs and other creatures, you'll find your eyes dazzled by what they see.
The music that accompanies the adventure changes as you enter different domains and can best be described as "adventure classical". The package also comes with a second music CD that can be played along with the game if you choose the full install of the game onto your hard drive, but be prepared to lose about 200Mb of disk space under this option.
I would have preferred to have more objects to interact with and a little less walking from screen to screen. A couple of the puzzles are a little tedious in this respect. But the action picks up near the end. The final movie clip is certainly worth all the effort.
Conclusion:
If you can forgive the macho attitude of the hero Jack, you're in for an adventure packed with amazing graphics and a few heart stopping moments as you battle your way to the end.

Written by Glenn Soucy
System Requirements:
IBM-PC 486 DX/66 Mhz or faster processor,
Min 8Mb memory,
Windows 95, or Windows 3.1 (or later),
Hard drive required,
Double speed CD-ROM drive or faster,
256-color SVGA video graphic card,
Microsoft compatible mouse.
MPC compatible sound card.
Developers
Century Interactive.
Publishers
In North America:
BMG Interactive Entertainment,
1540 Broadway,
New-York, NY 10036-4098.
In Europe:
In UK:
BMG Interactive Entertainment,
Bedford House, 69-79 Fulham Hight St,
London, SW6 3JW.
In France:
BMG Interactive Entertainment,
4-6 Place de la Bourse,
75002 Paris.
In Germany:
BMG Interactive Entertainment,
Kastenbauerstrasse 2,
81677 Munchen.
In Belgium:
BMG Interactive Entertainment,
Square Francois Riga 30, Bt 8,
1030 Brussels.
In Netherlands:
BMG Interactive Entertainment,
Laapersverld 63,
1213 VB Hilversum.
In Sweden:
BMG Interactive Entertainment,
Starrbackgatan 1,
P.O. Box 1092,
172 21 Sundyberg.
In Norway:
BMG Interactive Entertainment,
P.O. Box 7030,
Homansbyen,
0306 Oslo.
In Asia:
In Japan:
BMG Interactive Entertainment,
1-3-9 Shibuya,
Shibuya Ku,
Tokyo 150.
In Singapore:
BMG Interactive Entertainment,
Alexandra Distripark,
Blk 2, 11-01/04,
Pasir Panjang Rd,
0511 Singapore.
In Pacific:
In Australia:
BMG Interactive Entertainment,
194 Miller St,
North Sydney, NSW 2060.
Ratings:
Graphics:
85%
Sound:
85%
Music:
80%
Gameplay:
70%
Interest:
75%
Overall:
79%
All content Copyright © 1994, 1995, 1996 Coming Soon Magazine, Inc. All Rights reserved.