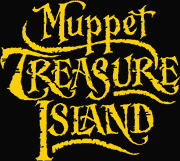 by
It would have been wonderful to have Jim Henson around to ask him about his views on educating the young. I imagine that Mr. Henson would have said that learning should be fun; that the more entertaining a learning experience is, the easier it is to retain that knowledge. Through their association with "Sesame Street", and their own "Muppet Show", Jim Henson's Muppets have touched the lives of millions of people; educating them while being entertained. Following that lead, Activision's "Muppet Treasure Island" sets sail with an inspiring interactive adventure game that succeeds in both enlightening and entertaining the player.
Learning Made Fun, Muppet Style
Based on Robert Louis Stevenson's classic novel "Treasure Island", and the Walt Disney feature "Muppet Treasure Island", this game puts you in the role of the young hero "Hawkins" and adds a zany cast of Muppet characters to help you find Captain Flint's hidden treasure.

Starting off at the Benbow Inn, the first of four richly animated `worlds' you'll visit, we're first introduced to our friend Stevenson, the helpful parrot. Stevenson, a new Muppet character, will accompany you throughout the game, giving you helpful advice and also carrying all the neat stuff you pick up along the way. At the Benbow Inn, we quickly meet Billy Bones (played by actor Billy Connoly), the man who was with Captain Flint when he buried the treasure on the island. I say quickly because Billy finds the dreaded "black spot" (the universal pirate symbol for death) up on his room and he soon disappears from the game. But, Billy was there for a purpose, for he was the keeper of the famous map to treasure island. After some searching in and about the Inn, you'll find a key to Billy's sea chest, which contains the much fabled map to Treasure Island.

Once you've gotten the map, and survived the pirates bombing attempt, you're off to the town of Bristol. In Bristol, your goal is to acquire the Seal of Passage from the Squire Trelawney, the son of Bristol's master shipbuilder. But in order to meet the Squire, you must first be properly dressed. So, it's off to buy a new outfit at Monsieur Edouard's tailor shop. Being a young explorer, it's happens that you don't quite have enough money to purchase a Monsieur Edouard original; so in order to earn a few extra `doubloons' you help Pops by ridding the shop of pesky pirates. How? By blasting the pirates in the nose with freshly baked cherry pies, of course!! You'll be rewarded one doubloon for every plastered pirate, but watch out, you'll be docked one doubloon whenever you accidentally nail one of the shops customers.

Once you've earned your keep and have purchased your new clothes, the Squire will now be happy to meet you. A Seal of Passage doesn't come easy and the only way you'll get it is by showing the Squire the map to Treasure Island. The Squire, played by Fozzy Bear (WOKKA WOKKA!!) will grant you the Seal of Passage and join you on your trip to the Island.

Your new Seal will grant you passage on the Hispaniola, a tall ship commanded by Captain Smollett, played here by the one and only Kermit the Frog. On board the ship, you must prove your worthiness by completing the five tasks set out by Captain Smollett; Build a model ship, Fire the cannon, Weigh the anchor, load the jolly boat and Help Long John Silver make apple pies in the galley. Some of the tasks, in particular the ship building exercise, provides the game player with the chance to learn a little about ships. In addition, the Captain's cabin is filled with all kinds of neat information.

Once your tasks are complete, you'll be invited to the top of the helm for an astronomy lesson at nightfall. The lesson, narrated by Kermit, takes you through a list of constellations which many sailors must have gazed upon as they guided their ships across the night sea.

When morning comes, Captain Smollett will ask you to steer the boat to Treasure Island. Once again, this is a learning experience because you have to know the difference between "port" and "starboard" if you ever want to make to the island.

Having navigated the Hispaniola to Treasure Island, you get kidnapped by Long John Silver, played by Tim Curry, and his evil band of pirates. Silver steals your map, but all is not lost. With a little work, and a few problem solving skills, you'll be able to decode Flint's secret password and meet up with Queen Benjamina, played by Miss Piggy. Now, the pirates will try to steal your treasure again, but you'll be able to wipe out their attack with a throwing few handy coconuts.
First Rate Graphics & Sound
As we might come to expect from any product associated the Jim Henson Productions, Muppet Treasure Island offers top of the line graphics and sound. The 'live action' video is nicely supplemented by brightly colored 3-D cartoon backgrounds. While the sound always seemed to slightly lag behind the movement of the characters mouths, the end product is nonetheless quite pleasing to the eye. Sound quality is pretty standard fair for a CD-ROM based game, but Muppet Treasure Island benefits from an interesting soundtrack and of course the very familiar voices of your favorite Muppet characters.
Conclusions
There have been only a few rare occasions where I have been able to play an entire `kids' game strait through to the finish; this was one of those times. In fact, you couldn't wipe the grin off my face most of the time. It comes highly recommended for young and old alike.

Muppet Treasure Island truly delivers on fronts. Jim Henson would have been proud.

Written by Mike McGrath

Click here for screen shots.
System requirements
IBM-PC 486DX2-66 or higher,
Windows 3.1 or Windows 95,
Min 8 Mb memory,
VESA local bus (VLB) or PCI video card,
256 color SVGA,
35 Mb free hard disk space,
15 Mb hard disk space for virtual memory (recommended),
Double-speed CD-ROM,
100% Sound Blaster compatible sound card,
Microsoft compatible mouse.

Developers
Activision,
11601 Wilshire Boulevard, Suite 100,
Los Angeles, CA 90025
| | |
| --- | --- |
| Technical Support: | 310-479-5644 |
| BBS Support: | 310-479-1335 |
| | |
| --- | --- |
| Hint line: | 1-900-680-HINT (USA) |
| | 1-900-451-4849 (Canada) |
| | |
| --- | --- |
| Order line: | 1-800-782-7927 (USA) |
| | 1-800-828-7927 (Canada) |
Web site: Activision
Internet Support: Activision Technical Support
Publishers
In North America:
See Developers.
In Europe:
In UK:
Activision Europe Ltd.,
Long Island House, Suite 3A,
1/4 Warple Way,
London W3 0RQ.
| | |
| --- | --- |
| Technical Support: | +44-(0)990-143-525 |
| Hint Line: | 1-0891-555-113 |
In France:
Ubi Soft
28, rue Armand Carrel
93108 Montreuil sous Bois Cedex
| | |
| --- | --- |
| Technical Support: | +33-(1)4857-0554 |
| Fax Support: | +33-(1)4857-6291 |
Web site: Ubi Soft
In Australia and Pacific Rim:
Activision Australia,
P.O. Box 873,
Epping, NSW 2121.
| | |
| --- | --- |
| Technical Support: | 1-800-677-527 |
| Hint Line: | 1-902-261-577 |
Ratings:
Graphics:
90%
Sound:
95%
Music:
95%
Gameplay:
90%
Interest:
90%
Overall:
92%
All content Copyright © 1994, 1995, 1996 Coming Soon Magazine, Inc. All Rights reserved.