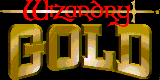 by
Wizardry Gold is an enhanced release of "Crusaders of the Dark Savant", the seventh episode of the Wizardry series published by Sir-Tech Software. This is a classical role playing game with management of a team of six adventurers, spell casting, lock-picking, fighting, evolution of the adventurers with experience points, and so on.

This series begun way back in the eighties and Crusaders of the Dark Savant was released for the first time in 1992 as I recall. This was a BIG success in the series and it's probably the reason why they decided to release this enhanced version now.

The game is the same, with the same plots, rules, combat systems, maps, etc, but completely re-engineered to run under Windows 3.1/95/NT. We'll come to that bit later, now the Story:

A great secret was revealed to the universe, the existence of the planet "Lost Guardia". Even though the space lords tried to hide its presence to the rest of the universe, a small miner's ship discovered the planet. The legend says that it is on this planet that Phoonzang hid in various places his secret concerning the power of the universe and life itself. Because of the power of this secret Phoonzang he couldn't force himself to destroy it and hid it so that it wouldn't fall into the wrong hands. Now that the secret has been revealed, the race is on but there aren't many contestants. One of them is the Dark Savant, an enigmatic star traveler. But you'll also encounter the other contestants, some will help you, some others won't.

The game has kept some of the characteristics of its first release namely a square to square walk (step walk), a selection of four directions to face. The presentation has been improved, everything has been translated to SVGA resolution, but the resolution is fixed on a 640 x 480 screen. All the borders are occupied by the characteristics of the adventurers and icons, with only a small central window that is at all interesting. At first I played with my normal configuration of 800 x 600 and the central window seemed so tiny that I had to change my resolution to 640 x 480. The new goodies are in fact nice cinematics sequences, digitalized speech and new sound effects especially during combat, and monster animation. One of the advantages of working under windows is the on-line manual and hint book that makes your life so much easier. There is a possibility of setting the difficulty level of the game giving you more monsters, hence more experience points.

The handling of the game is true to the first role playing games. Before each round of combat you decide, without any time related stress, who is going to do what. This isn't a real time action game. The possibility of aiming at one specific monster to concentrate your efforts is not available and is a small detail that could have been fun had it been added.

The special effects are quite good, small explosions, blue magic missiles or red ones. In the characteristic sheet of each adventurer, there are some small animations of the air, water, etc... in the spell areas. The game is in fact a heroic fantasy role playing game, even if there are space travellers, and other races different from dwarves, elves and orcs. The presence of other races doesn't change the game, there isn't any technological weaponry like phaser guns, lasers, and klingon's disrupters, but there are classical spells like energy blast, death cloud or the all time favorite FIREBALL.
Conclusion:
If you are missing the old Wizardry feeling or if you missed "Crusaders of the Dark Savant", then this is a good opportunity to get it with a smoother touch. No DOS version available, sorry.

Written by Frederic Zur Nedden

Click here for screen shots.
System Requirements:
386 DX-33 MHz or higher,
Min 4Mb memory,
MS-DOS 5.00 or higher,
Hard drive required with 10Mb free,
Double speed CD-ROM drive or faster,
MSCDEX version 2.2 or higher,
256 SVGA display (PCI or VLB recommended),
Windows compatible sound card,
Microsoft compatible mouse.
Ratings:
Graphics:
80%
Sound:
80%
Music:
75%
Gameplay:
78%
Interest:
79%
Overall:
79%
Publishers
In North America:
Sir-Tech Software,
P.O. Box 245,
Ogdensburg Business Center, Suite 2E,
Ogdensburg, NY 13669
| | |
| --- | --- |
| Technical Support: | 315-393-6644 |
| Hint Line: | 315-393-6633 |
Web site: Sir-Tech Software
Email address: Sir-Tech Technical Support
In Europe:
In UK:
Mindscape International Ltd.,
Priority House,
Charles Avenue, Maltings Park,
Burgess Hill, West Sussex RH15 9PQ.
| | |
| --- | --- |
| Technical Support: | (+44)-(0)1444-239600 |
| Fax Support: | (+44)-(0)1444-248996 |
Web site: Mindscape UK
In France:
Mindscape France,
74D Rue de Paris,
36069 Rennes Cedex.
| | |
| --- | --- |
| Technical Support: | (+33)-9987-5887 |
| Fax Support: | (+33)-9987-5888 |
In Germany:
Mindscape Germany,
Zeppelinstrasse 321,
45470 Muelheim A.D. Ruhr.
| | |
| --- | --- |
| Technical Support: | (+49)-208-9924100 |
| Fax Support: | (+49)-208-9924129 |
Copyright © 1996 Coming Soon Magazine! All Rights Reserved.