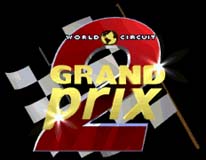 by
After having driven his Williams Renault to the pole position at the 1996 Belgian Grand Prix, rookie Canadian driver Jacques Villeneuve admitted he had been playing a racing simulation game on his computer to familiarize himself with the track. Though he never said exactly which game he was playing, we have a good idea that it was Grand Prix II from Microprose.

This anxiously awaited sequel to the 1992 mega-hit 'World Circuit Racing' recently hit the shelves after being delayed for months. With its improved game play and stunning graphics, Grand Prix II is one product that lives up to its pre-release hype.

Given the choice of driving any car in Formula One, which one would it be? That's the choice you're given when you first boot up Grand Prix II. By default, you're given the famous number 27 Ferrari, driven by Jean Alesi. Incidentally, unlike its predecessor Grand Prix II uses all the statistics from the 1994 F1 season; meaning you'll be driving against Michael Schumacher's Benneton, Damon Hill's Williams and Mikka Hakkinen's McLaren. Not only are the cars flawlessly depicted in their 1994 colors, but fans will recognize all the popular sponsors; from Agip to McDonalds. Conspicuous in their absence are the tobacco advertisers who seem omnipresent in real life F1 television coverage.

The first track you'll encounter is the Interlagos course in Brazil. The designers have paid attention to every possible detail and have ensured that each one is represented on the screen. The result is quite simply the most graphically pleasing racing game this reviewer has ever seen. But as expected, the astonishingly real graphics do come at a price. Simply put, the game needs every bit of system resources your PC can muster. This reviewer's Pentium 75 with 16Mb of RAM was only able to run Grand Prix II in fully detailed SVGA graphics at less than eight frames per second. That's nowhere near acceptable, especially for a racing game. So, the resource deficient gamer will be forced to either upgrade his PC or settle for a little less graphics quality in this game. The fact that the game requires so much playing power makes this reviewer wonder if the shipping delay for Grand Prix II was at least in part due to the fact that few gamers had machines powerful enough to run the game.

The player can control his car using either the keyboard or a joystick. The car's reaction to the commands via the keyboard are quite quick. Of course, for the most realistic driving effect, game-players might want to go out and get themselves a steering wheel controller.

The first time player will likely want to race at least the first few sessions with all the driving aids on. Driving aids include Automatic Brakes, Automatic Gears, Self-Correcting Spins, Indestructible car, Ideal Line (which shows the fastest route around the track), Suggested Gear and Throttle Help. The first driving aid this reviewer removed was the Indestructible Car, followed shortly thereafter by Self-Correcting Spins. After all, what fun is F1 racing if there's no danger of breaking your car? As you progress and feel more comfortable with the tracks and how the car handles, you'll be able to remove all the driving aids to finally experience everything that must go through an F1 driver's mind during a race.

The race itself can be viewed from a variety of camera angles, much like you'd see on TV. For the game-player, however, the overhead car view or preferably the cockpit view will most likely be used. The extra camera angles come into play whenever you want to have a look at an instant replay, or just want to observe the other drivers as they circle the track.

Those familiar with the first Grand Prix game will be pleased with the enhancements made to the car's handling characteristics and the options added for car editing. As you would expect in a Formula One race, your car will tilt when you roll over the rumble strips, bounce if you roll into the gravel runoff area and even become airborne if you're unfortunate enough to touch wheels with another driver. Like the first game, you are able to make modifications to your car's settings, but Grand Prix II offers three levels of additional variables for you to fool with in hopes of speeding up your car. Unlike the first game, however, theses modifications actually do make a difference. In fact, this reviewer found that making modifications to the car were the only way to remain competitive in the race.

Those of us with a competitive spirit daydream about how pleasing it would be to blow the doors off our best friend's car. Grand Prix II makes that a possibility with the use of three multi-player options. The first, which fans of the first game will immediately recognize, lets multiple players use the same machine by alternating which car is being 'human controlled'. While this is a handy feature, the game-player never really gets the thrill of passing his buddies on the track. The second option is to use a modem and play head-to-head. The third option is a direct serial port connection through a null modem. Use of these options provides the gamer with a real sense of competition. Depending on modem speed and, of course, the speed of the slower of the two game machines, game-players will likely experience a degradation of the game's performance.
Conclusion
Were it not for the fact that the game just takes up far to many system resources, Grand Prix II may well have been given a perfect score. As it is, we've got to take a few points away for that one fault. This reviewer found the game to be exceptional in each of our review criteria. Microprose has once again set a new standard for racing simulations.

Incidentally, while Jacques Villeneuve did win the pole position at the Belgian Grand Prix after learning the track on his PC, he did reveal that he only managed an 18th place finish on the computer game. So, if your struggling with poor finishes in Grand Prix II, just remember, even the world's top drivers find it tough.

Written by Mike McGrath

Click here for screen shots. (coming soon early next week)
Ratings:
Graphics:
95%
Sound:
95%
Music:
90%
Gameplay:
90%
Interest:
95%
Overall:
92%
System Requirements:
486 DX4-100 MHz or higher,
MS-DOS 5.0 or higher,
Min 8Mb memory,
Hard drive required with 15Mb free,
Double speed CD-ROM drive or faster,
SVGA video graphic card (VESA required),
Microsoft compatible mouse.
Creative Labs Sound Blaster, Pro, 16 and AWE32; Media Vision Pro Audio Spectrum; Gravis UltraSound; Ensoniq Soundscape; Roland RAP-10; General Midi devices supported.
Developers
MicroProse USA
180 Lakefront Drive,
Hunt Valley, MD 21030.
| | |
| --- | --- |
| Technical Support: | 410-771-1151 |
| Fax Support: | 410-771-1174 |
| BBS Support: | 410-785-1841 |
Web site: MicroProse
Email: MicroProse USA
Publishers
In North America:
See developers.
In Europe:
In UK:
MicroProse Europe
The Ridge, Chipping Sodbury,
Bristol BS17 6AY.
| | |
| --- | --- |
| Technical Support: | +44-(0)1454-329510 |
| Fax Support: | +44-(0)1454-326499 |
| BBS Support: | +44-(0)1454-327083/327084 |
For UK Only:
For new release information and hints and tips on selected games, call the MicroProse Classified Line on 0891-555-111. This call is more expensive than a normal call and will terminate after six minutes at a maximum cost of 2.94 British pounds. Please seek the permission of whoever pays the bill before you call.
Email: MicroProse UK
In Germany:
MicroProse-Spectrum Holobyte GmbH
Bartholomausweg 31,
33334 Gutersloh.
| | |
| --- | --- |
| Technical Support: | +49-(0)5241-946480 |
| Fax Support: | +49-(0)5241-946494 |
| BBS Support: | +49-(0)5241-946484 |
Email: MicroProse Germany
In France:
Ubi Soft,
28, Rue Armand Carrel,
93108 Montreuil Sous Bois CEDEX.
| | |
| --- | --- |
| Technical Support: | +33-(1)4857-0554 |
| Fax Support: | +33-(1)4857-6291 |
Copyright © 1996 Coming Soon Magazine! All Rights Reserved.