War College
by
War College is the third game in the universal military simulator series (UMS) and is the most exhaustive battle simulator. Everything is counted such as men, casualties, and missing soldiers. The battle field is presented as a map with the relief showing hills, meadows, rivers and towns.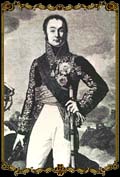 General Oudinot

The best part of the game is the positioning and military formation of the troops. There are no grids, hexagons, nor squares, and all troops are free to move from one point to another. It's like each pixel is a place in which you can go. The military formation of the troop must also be chosen. You can advance in columns to travel faster, squares to fortify and defend your base camp, or in a straight line to attack. The orientation and direction the troop is facing are represented by a small arrow that is very useful in combat. If the troops are facing each other, each troop will use 100 percent of their potential to attack the other and defend themselves. However, if you attack from the side, you will have 100 percent and your opponent only 25 percent for attacking and defending. Therefore it is very important to be facing the enemy at the right moment and to surprise them with an attack. The orientation of the troop is free to turn on a 360-degree base, but it takes some time to turn your troop around or to wheel it as it is called.

War College is a real time strategy game where you have to give orders to each troop (cohorts, auxiliaries, legions, cavalries, artilleries, etc.) during the battle. There are no battles in the evenings after 6 PM because of the darkness. Time passes by quickly and if the game gets too difficult, you can give orders and assess damages during a game pause. Be careful about launching outnumbered troops upon the enemy as this can bring down their morale. Once they lose it, they won't respond to any orders, will flee from the battle field and become very weak. Morale recuperation and other parameters can be set by the player, but they take effect for both sides. Although there are only four battles available, there are still many possibilities offered as you can choose among several sides in each confrontation.

The four battles in which you can test your tactical skills on are:
The battle of Pharsalus between two great Roman leaders Caesar and Pompey which occurred during the Roman civil war. They actually have been able to locate the battle field and to reconstruct the "relief" with satellite pictures. This is a short range battle, no artillery or modern troops, a restricted area (between the river and the hills) and only legions to decide the victory.
The battle of Austerlitz which is a classical Napoleon maneuver against the allies. There are more types of troops available like artillery, but Napoleon was outnumbered three to one. Let's see if you can do the same.
The battle of Antietam who saw the end of General Lee's first invasion of the north. The battle of lost opportunities and lost courage. Antietam remains the bloodiest day in American military history.
The battle of Tannenberg which took place during the First World War saw the bitter defeat of General Samsonov against the Germans who were in charge of an inferior force.
The game is well built and everything is crystal clear. You can display or hide the information for each troop such as morale, name, strength, way-point, and whether they have received an order indicating the enemy's bearing. It is possible to automatically jump to each troop that is in battle, but the results will appear on the bottom of the screen anyhow.
Everything is calculated from the time to change formations, turn and march. It all takes a little time and the game is a bit slow at first, especially for the first units to get in contact, but once that happens the game continues at a good pace. I would say that it takes between six and twelve hours to finish a battle depending on your skills. Of course it is possible to save the game, but it isn't easy as there is always a little battle that you would like to finish or another move you'd like to make before saving the game. There goes another sleepless night (one of the major danger of this game).
There are two aspects of the game in which I wasn't very happy about: the zoom and the sound option. There are two degrees of zoom, the first is a quarter of the battle field and the second is a 16th of the battlefield, but the squares are predefined and you can't move them or center one upon a troop. This is your blind vision field when half of your troop is on one square and the other half is on another.
The sound is a bit disappointing also as there is only one CD-track for each battle type. The minimum installation requires two megabytes of hard drive space making the game playable from the CD, but you can't have any music during the game.
Included on the CD is a full documentation on each of the battles. There are political and historical backgrounds, an explanation of how the battle took place, who won and how they did it. Because you can choose the side you want to be on, it is important to know the differences between the forces in play.
Conclusion:
War College is a good game, a bit slow at times but very tactical and accurate in the fighting.

Written by Frederic zur Nedden
Ratings:
Graphics:
84%
Sound:
78%
Music:
79%
Gameplay:
75%
Interest:
80%
Overall:
79%
Click here for screen shots.
System Requirements:
486 DX-50 MHz or higher,
Min 8MB memory,
Dos 5.0,
Hard disk with 10Mb free,
Double speed CD-ROM drive or faster,
256-color SVGA video graphic card VESA compatible (VESA Local Bus or PCI recommended),
Microsoft mouse or 100% compatibles.

Creative Labs; Media Vision and Gravis Ultrasound cards supported.

Supports Windows 95.
Publishers
In North America:
GameTek, Inc.,
Three Harbor Drive, Suite 110,
Sausalito, CA 94965.
| | |
| --- | --- |
| Technical Support: | 910-222-5190 |
| Fax Support: | 910-229-1635 |
Web site: GameTek
Email address: GameTek USA Technical Support
In Europe:
In UK:
Gametek UK.,
258 Bath Road,
Slough, Berkshire SL1 4DX.
| | |
| --- | --- |
| Technical Support: | +44-(0)1753-531831 |
| Fax Support: | +44-(0)1753-554340 |
Email address: GameTek UK Technical Support
In Germany:
Gametek Deutschland GmbH,
Steinmetzstr. 20,
41061 Monchengladbach.
| | |
| --- | --- |
| Technical Support: | +49-(0)180-5304525 |
In France:
Gametek France,
5 Rue Jean Rostand,
B.P. 380,
Genas Cedex.
Copyright © 1996 Coming Soon Magazine! All Rights Reserved.
Reproduction in whole or in part, in any form or medium without express written permission of Coming Soon Magazine is prohibited.