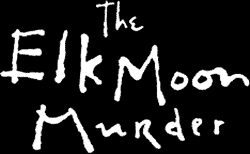 by
Looking for something to do on a rainy summer's day? How about curling up with your favorite mystery novel? Or better yet, how about sitting down in front of your PC and solving a murder mystery all by yourself? This is the challenge offered to you by Activision's new "Elk Moon Murder", first in a new series of role-playing mystery games marketed under the "Santa Fe Mysteries" banner.

Playing the role of a rookie detective, you must navigate your way around the city of Santa Fe in the hopes of finding out who murdered Anna Elk Moon and why they did it. The objective is simple enough, but like any mission worth pursuing, the road you must travel is full of unexpected twists and turns.

The Story

It all starts out with the news of the murder of Anna Elk Moon. Day one of your quest for justice finds you being introduced to your new boss, the police chief. He gives you some preliminary information on the case and introduces you to your partner, John Night Sky, a Native American ready and willing to give you his opinion each and every step of the way. The police chief leaves you with one VERY important bit of information; you only have five days to solve this mystery!!

Time is an all important factor in Elk Moon Murder. Given the time constraint of only five days, the player must be extremely vigilant with how he spends his time. Asking one too many questions, or following the wrong lead can cost you in the long run.

The first task is to visit the crime scene itself. There, you examine the scene, finding bits of evidence that may or may not lead to solving this mysterious murder. Nonetheless, you call in all the evidence to the police crime lab, where they dissect it, inspect it and report back to you with all the information they may have found. Then it's off to talk with Jack Gordon, Anna Elk Moon's grief stricken husband who has resorted to frequent shot of scotch to drown his sorrows. Once again, Mr. Gordon supplies some information that seem to be important, but you can't afford to ask too many follow-up questions because you've just spent three hours of Day One and you still haven't gotten past the crime scene.

Map of the city

The game pretty much points you in the right direction for the first day or so of game time. After that, you basically have to decide for yourself which leads are dead ends and which ones are worth pursuing.

Like all well written screenplays, this story makes almost everyone look guilty of the murder. This reviewer found himself thinking "he or she did it" when interviewing each witness. With each successive interview, you find yourself marking "suspect" next to the names of most of the people you interview. Each and every "suspect" seems to have some sort of motive. Sure, some seem to have an alibi, but you've got to check those out to see if they're telling the truth. Perseverance, meticulousness and patience are the keys to solving the Elk Moon Murder.

Gameplay, Graphics and Sound

With the prices of hard drives and RAM dropping constantly since last summer, the trend in the gaming industry seems to require more and more from the player's machine. Elk Moon Murder is no exception. Requiring at least 8Mb of RAM, 35 Mb of free hard drive space and a true color SVGA card, this game is a bit of resource hog. Once it is installed, however, the game is quite impressive. Featuring over one hour of full motion video, Elk Moon Murder performed quite well on this reviewer's Pentium 75 equipped with 16 Mb of RAM. On rare occasions, the video and sound seemed to get slightly out of sync, only to catch up again seconds later.

Aside from the full motion video, the graphics interface is a pleasing series of static photos of the various areas of Santa Fe, or the town itself. Moving around the game is quite easy, with the mouse being the only user interface required. In fact, the only time you need to take your hand off the mouse is to type in a file name for your saved game. That's good because you'll want to be paying attention to everything being shown and spoken each step of the way.

The player need not write any notes of his own either, since all the vital information is automatically recorded into your Personal Digital Assistant, which acts sort of like a super advanced laptop with cellular video conferencing capabilities along with an email and filing system. I wouldn't mind having one of those myself.

The storyline, written by Emmy-nominated author Sam Egan (from TV's Northern Exposure), supplies enough twists and turns to keep the player thinking all the way. Fans of TV's L.A. Law will recognize actress Amanda Donohoe who plays Karne Gordon, a key figure in the Elk Moon Murder. Donohoe portrays C.J. Lamb in L.A. Law.
Conclusion:
Elk Moon Murder, with a selling price of only US $29 is definitely a steal. The one problem with mystery games is that once you've solved the mystery, there's no game left to play. I'm quite certain the good people at Activision took that fact into account when the came up with such a low price.

Despite its bargain price, the game delivers on all counts. Graphics and sound are beyond reproach and the storyline is good enough to keep you guessing throughout the game. The only negative comment I have about Elk Moon is that sometimes the replies given by the witnesses are longwinded and seemingly pointless. I realize that's a fact of life for most on the street detectives, but I think I should have the option of stopping the person if I don't want to hear anymore. Having an escape feature would have been appreciated at times.

Overall, Elk Moon Murder would be a definite plus for any game player's collection. I recommend it wholeheartedly. One hint though, Always listen to the police chief. I got kicked out of the police force for not listening to him on Day Three of the game. Now, excuse me while I get back to the game.... I have a mystery to solve.

Written by Mike McGrath
Ratings:
Graphics:
85%
Sound:
80%
Music:
81%
Gameplay:
82%
Interest:
85%
Overall:
83%
Click here for screen shots.
System Requirements:
486 DX2-66 MHz or higher,
Min 8MB memory,
DOS 6.0 or later,
Hard disk with 35Mb free space,
Double speed CD-ROM drive or faster,
16-bit High color SVGA video graphic card (VESA Local Bus or PCI recommended),
Microsoft mouse or 100% compatibles.

100% Sound Blaster 16-compatible sound card (for digital and general MIDI audio).

Designed for DOS & Windows 95 operating systems.

Notes: 8-bit sound cards are not supported
Developers
Activision,
11601 Wilshire Boulevard, Suite 100,
Los Angeles, CA 90025
| | |
| --- | --- |
| Technical Support: | 310-479-5644 |
| BBS Support: | 310-479-1335 |
| | |
| --- | --- |
| Hint line: | 1-900-680-HINT (USA) |
| | 1-900-451-4849 (Canada) |
| | |
| --- | --- |
| Order line: | 1-800-782-7927 (USA) |
| | 1-800-828-7927 (Canada) |
Web site: Activision
Email address: Activision Technical Support
Publishers
In North America:
See Developers.
In Europe:
In UK:
Activision Europe Ltd.,
Long Island House, Suite 3A,
1/4 Warple Way,
London W3 0RQ.
| | |
| --- | --- |
| Technical Support: | +44-(0)990-143-525 |
| Hint Line: | 1-0891-555-113 |
In France:
Ubi Soft
28, rue Armand Carrel
93108 Montreuil sous Bois Cedex
| | |
| --- | --- |
| Technical Support: | +33-(1)4857-0554 |
| Fax Support: | +33-(1)4857-6291 |
Web site: Ubi Soft
In Australia and Pacific Rim:
Activision Australia,
P.O. Box 873,
Epping, NSW 2121.
| | |
| --- | --- |
| Technical Support: | 1-800-677-527 |
| Hint Line: | 1-902-261-577 |
Copyright © 1996 Coming Soon Magazine, Inc. All Rights Reserved.
Reproduction in whole or in part, in any form or medium without express written permission of Coming Soon Magazine is prohibited.