NINTENDO ULTRA 64
NINTENDO DEBUTS 64-BIT GAMING AT E3
Nintendo Introduces Revolutionary Nintendo 64

Click on image to visit site

Los Angeles, May 16, 1996 -- The wait is over... Nintendo of America Inc. today unveiled for the first time in the U.S., Nintendo 64 -- the world's first true 64-bit home video game system. Visitors to E3 received the first U.S. hands-on demonstration of Super Mario 64, the revolutionary, real-time, 3-D adventure game for Nintendo 64. Other titles unveiled WaveRace 64, Pilot Wings, Star Wars:Shadows of the Empire, Cruis'n USA and Killer Instinct.

Launching in the U.S. on September 30, 1996, Nintendo 64 will be available for a manufacturer's suggested retail price of $249.95.(*) The system will be packaged with a revolutionary new analog joystick controller.

Nintendo also announced Nintendo 64 titles available on September 30 will be Super Mario 64, PilotWings 64, WaveRace 64, Star Wars: Shadows of the Empire, Body Harvest, TetrisPhear and Cruis'n USA. Additional titles to be launched between October and December 1996 include Buggie Boogie, Ken Griffey Jr., Blast Corps, GoldenEye 007, Super Mario Kart R and Killer Instinct. All titles will be sold separately with a manufactuer's suggested retail price range of $49.95(*)-$79.95(*).

(*) Although Nintendo of America Inc. may suggest retail prices for products, the dealer is free to determine on its own the prices at which it will sell products.
---
NINTENDO 64 SOFTWARE IN DEVELOPMENT
Exclusive Titles Provide Revolutionary Game Play
More than 50 software titles are currently in development for Nintendo 64. Covering all genres including action/adventure, role-playing, sports, martial arts, racing and flight simulation, these games ensure there is something for everyone, regardless of player interest. Following is a list of several new Nintendo 64 titles currently in development:

Nintendo

Created by the world's most revered video game designer, Shigeru Miyamoto, Nintendo's flagship game for Nintendo 64 combines the standard-setting game play of Super mario Bros. with true three-dimensional scenarios created by the world's most powerful video game system. The result is Super Mario 64 -- a real-time, computer graphics interactive effects, complete 360-degree movement allowing the player to move anywhere they want in a 3-D world, and the most controllable Mario ever -- he runs, walks, squats, whirls, slides, swims, climbs, flips, soars, waves his arms, makes expressive faces and noises and, of course...jumps.

Nintendo

PilotWings 64 is the sequel to another legendary Miyamoto creation - PilotWings for the Super Nintendo Entertainment System (Super NES). Under the skilled direction of Miyamoto, PilotWings 64 was developed by Nintendo and Paradigm Simulation Inc. of Texas, the leading developer of realistic simulation programs and 3-D graphics. PilotWings 64 takes players on an airborne tour through the United States, stopping at famous landmarks, including Mount Rushmore and the Statue of Liberty. Players can choose from three different vehicles -- a gyrocopter, hang-glider and jet pack -- and take 360-degree journeys through 27 different courses, performing difficult maneuvers such as pinpoint landings on mountain tops or flying in-between the buildings of a major metropolis. There is even a special feature for players to take aerial pictures.

Nintendo

As one of the firsr racing games for Nintendo 64, WaveRace 64 is a fast-paced, heart-pounding game. Real-time physics are in effect as players race personal water bikes on an open ocean with dynamic waves and environmental conditions -- wave height, direction and wind speed will influence the plzyer's ability to control their water bike. There are several different one- or two-player modes, including a timed race through an obstacle course, a slalom course with buoys and a stunt mode. Players have the ability to upgrade their water bikes as they progress through each course.

Nintendo

Kirby's Air Ride is one of the first Nintendo 64 games designed for play with up to four people. Similar to snow boarding, the game is an air board endurance challenge, which allows players to perform many different stylistic aerial stunts and maneuvers. This type of game play is possible only with the precision analog control of the Nintendo 64 Controller Stick. There will be several different modes of play, with the system generating random courses so players can have a new experience every time.

Nintendo

Super Mario Kart R for the Super NES has been one of the most popular racing games in video game history. Developed by Nintendo, Super Mario Kart R is based upon this classic platinum sales go-kart driving game. The new games improves on the original courses and adds a revolutionary four-player mode, utilizing the four controller ports built into the front of Nintendo 64, enabling four players to compete head-to-head. There are four different game play modes: Grand Prix, Time Attack, VS. Match and the legendary Battle mode.

Nintendo

Star Fox 64 is based on the classic, mega-hit, multi-million selling Super NES game. The advanced technology of Nintendo 64 brings Fox McCloud and his buddies to life with rich texture-mapped images and sends them on adventures in a whole new universe.

Nintendo/DMA Design

In Body Harvest, Adam Drake, the game's hero, has to travel in a time machine to various points in time to stop the aliens who have been harvesting humans on the planet for ultimate take over. The only way to stop the harvest is to defeat the aliens with powerful alien-bashing vehicles. There are more than 130 progressively stronger vehicles scattered throughout the game, including ships, Hovercraft, aircraft, trucks and tanks.

Nintendo/H2O

Developed by the Canadian software developer H2O, TetrisPhear is unlike and puzzle game ever created. Following in the tradition of one of the most popular puzzle games, TetrisPhear combines the enticing puzzle solving skills of Tetris with fast-paced action, captivating 3-D graphics and explosive sound. Set in a virtual world of the future, players must remove Tetris-style blocks to penetrate the core of a rotating 3-D sphere.
| | |
| --- | --- |
| STAR WARS: SHADOWS OF THE EMPIRE | $79.95 |
Nintendo/ LucasArts

Star Wars: The Shadow of the Empire, developed by the creative minds at LucasArts exclusively for Nintendo 64, tells a brand new story in the Star Wars saga. The adventure, which falls between The Empire Strikes Back and Return of the Jedi, has players taking on the role of Dash Rendar, protector of Luke Skywalker. The game includes famous characters from both original stories including Darth Vader, Boba Fett, Jabba the Hut and the Emperor, as well as new forces of evil from the Black Sun. Shadows of the Empire includes four types of game play in two different modes - a campaign mode and an arcade mode.

Nintendo

The arcade driving smash hit Cruis'n USA comes home on Nintendo 64. The game takes players on a cross-country trek in their choice of four automobiles, with plenty of hidden surprises. There are several different perspectives to choose from as players race through the unique, beautifully rendered roads of each city, including driving through the gigantic redwood forests of Northern California. The Nintendo 64 controller gives players perfect driving control from the smallest swerve to the tightest turn.

Nintendo/Angel Studios

Developed by Nintendo and the award-winning special effects team at Angel Studios, Buggie Boogie makes players feel as if they are a real dune buggy, prone to all sorts of dynamic forces: wind, gravity, anti-gravity, tornadoes, and traction on different surfaces and slopes. Players must maneuver these dynamic forces and other obstacles while battling a family of evil buggies and bosses. To help overcome these obstacles, players can customize their buggies with interchangeable components such as engines, tires and special features, including futuristic weapons. A two-player competition mode splits the screen, becoming one screen when the players are near each other.
| | |
| --- | --- |
| KEN GRIFFEY JR. BASEBALL | $69.95 |
Nintendo/Angel Studios

The Ken Griffey Jr. series of baseball games grows with the ultimate video baseball game - Ken Griffey Jr. Baseball for Nintendo 64. Developed by Nintendo and Angel Studios using Angel's ARTS technology and motion capture techniques, the first baseball game for Nintendo 64 is the game by which all other baseball games are compared. The players are completely rendered, and due to Nintendo 64's ability to perform detailed physics calculations, dynamic moves of players are simulated with uncanny realism.

Nintendo/Rare

In Blast Corps, players must clear the path for a runaway missile carrier, using powerful, high-speed bulldozers through cities and rural landscapes, knocking everything out of the way in a race against time. As players progress through the game, they can upgrade their dozers to more powerful machines, some even looking like giant humanoid robots. The most impressive visuals of the game include the incredible rendered explosions.

Nintendo/Rare

Developed by Nintendo and Rare Ltd., GoldenEye 007 is based on the popular 1995 James Bond movie of the same name. The game follows the movie's story line through a variety of game play modes, including a first-person perspective in a military installation. The realism of GoldenEye is apparent in the digitized and texture-mapped faces of the actual actors from the movie. Additionally, blueprints from the movie were used to re-create the game play environments.

Nintendo/Rare

Killer Instinct became an instant number-one hit in arcades and homes due to its beautifully designed characters and backgrounds and unique combo battle system. Killer Instinct for Nintendo 64 takes that a step beyond with new moves such as Pressure Breakers, Rock-Paper-Scissor moves, Combo Breakers and Super Linkers. With fast, smooth, fluid 60 frames-per-second animations, a stunning soundtrack and the Nintendo 64 controller, Killer Instinct will revolutionize the way fighting games are played.
---
NINTENDO 64 THIRD-PARTY TITLES IN DEVELOPMENT
TUROK: DINOSAUR HUNTER
Acclaim Entertainment
64 bits of dinosaur-slaying chaos in a land outside time. Turok: Dinosaur Hunter breaks barriers in 360 degrees 3-D interactive environments. Enter this 64-bit landscape of lush jungles and crumbling cities, filled with savage, bionically-enhanced dinosaurs. Turok... A fierce warrior out to save the world from the most violent and realistic creatures ever unleashed on civilization. Travel outside of time with unprecedented motion-captured graphics, and step into the future of gaming!
DOOM 64
Williams Entertainment
Based on id software's best selling computer game series, Williams' Doom 64 employs state-of-the-art graphics and technology to create all the heart-pounding excitement and intense game play that gamers have come to expect from the Doom name. Doom 64 explodes on the Nintendo 64 with over 24 new and original levels of play for pulse-racing new play scenarios. In addition, Doom's menacing monsters and hardcore weapons arsenal have been completely redesigned exclusively for the Nintendo 64, giving gamers a game playing experience like no other. Doom 64 is also jam-packed with screaming fast real time non-stop action, bizarre ambient lighting effects, wild new textures in full 64-bit color, earth-shattering sound effects and maniacal music blasting in full, CD quality stereo sound. To top it all off, Doom 64 is "totally stacked" with tons of new passwords and secret cheat codes to aid gamers in this insane 64-bit survival of the fittest.
FIFA 96
Electronic Arts
Electronic Arts, one of the world's leading independent software publishers, is developing an exclusive version of FIFA 96 for Nintendo64. The game will include never-before-seen characters, hundreds of international teams, and control functions only available on Nintendo 64.
Mission Impossible
Ocean of America
Offering arcade style and three-dimensional action, Ocean of America's Mission: Impossible, will incorporate all the psychological twists and turns for which its infamous namesake is known. Authentic computer-generated artificial intelligence in the spy simulation game will offer would-be secret agents an environment filled with deception and intrigue. As users assume the role of CIA agent, Ethan Hunt, every character and room they encounter will provide an infinite number of scenarios depending upon gamers' quick-witted moves. Mission: Impossible's computerized characters exemplify the advanced technology produced by Ocean of America's in-house development team. Each character has the programmed competency to react as a human being in any situation. Mission: Impossible will offer a realistic player point-of-view with every environment and character rendered in real time creating a cinematic effect. The game will offer users 360 degrees of movement, enhanced overhead views and optimal floating camera angles -- providing the most realistic player perspective ever displayed in an electronic game front. Such features give players more time to plot moves, devise tactics and deal with deceptions, double crosses and change identities with unsuspecting opponents. Complex missions will require players to strategically out think their enemies in order to advance to subsequent missions. Each moment of Mission: Impossible action depends on the players' ability to react intelligently in death-defying situations. Ocean of America's in-house development team has produced intense missions for clever players such as saving a submarine transporting illegal nuclear weapons, staying alive during a rendezvous in a government building and holding secretive meetings at train stations with enemy agents. Due to Ocean's sophisticated computer-generated artificial intelligence, no two players will ever have an identical experience. Users will have the power to challenge characters they meet during game play by asking questions, using secret agent weapons or searching for clues hidden throughout the environments. Gamers will employ a variety of ingenious electronic devices and gadgets to infiltrate and deceive their adversaries. Objects may be used solo or combined, depending on the ingenious thinking of the player and the level of experience one achieves while playing Mission: Impossible. Fountain pen dart guns can be used to tranquilize and track character whereabouts while explosive bubble gum can be used to open locks, cut cables and create larger explosions. Specialized two-way glasses provide gamers with secretive ways to spy without putting themselves in any eminent danger and mini oxygen tanks can save players from choking in smoke filled, gas filled rooms and underwater. Other Mission: Impossible gadgets include smart cards to enter enemy buildings and a mask maker which will permit players to disguise their true identity.
Monster Dunk
Mindscape
Mindscape's game, entitled Monster Dunk, is a real-time, interactive, 3-D game exclusively for Nintendo 64. The game takes a unique and humorous twist on the basketball game genre, featuring famous monsters playing two-on-two basketball. Monster Dunk will take advantage of Nintendo 64's unique capabilities, such as providing players with dozens of stunning special effects moves (for example, one character becoming a cloud of smoke, morphing into a bat, flying above the basket and dropping the ball through), creating dozens of random court hazards (hands periodically reaching up from the floor and grabbing players' legs), and including humorous game- and season-ending winning team sequences (the winning team throwing the losing team out of the stadium).
ROBOTECH CRYSTAL DREAM
GameTek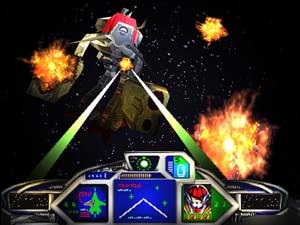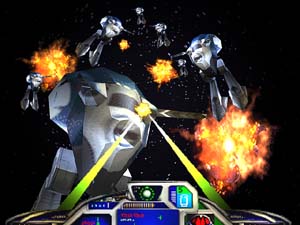 Based on a popular cartoon series, GameTek is developing Robotech: Crystal Dreams which will allow players to become completely immersed in a world of real-time, 3-D character animation. An all new story, created by long-time Robotech fans, Lizard Harac and Doug Lanford, Crystal Dreams is the first episode of a new saga set in the Robotech universe...you'll get to meet and interact with Rick Hunter, Max Sterling, and others, while carving out your own legend. An intriguing personal story intertwines with explosive battle action, providing the mix of soap opera and space opera which has driven the popularity of Robotech for over a decade. The unique MultiBranching ChronoSync Algorithm (MBCSA) drives game play, causing the world to alter in response to your choices in real time! You will have to battle a range of Zentraedri ships, from power-armored Zentraedri warriors to the powerful Officer's Pod, but you'll also have to face the crystalline Ebolian legions, as well as renegade members of the Robotech Defense Force. You will have allies too, including Rick Hunter and Breetai. In the ultra-realistic universe of Robotech, your Veritech fighter is fully transformable, with different abilities in Fighter, Battloid and Guardian mode. Learning to master the different strengths and weaknesses of each mode is the key to success. Even the game-controls dynamically reconfigure themselves to suit the mode of your craft! Robotech features stunning 3-D graphics. All objects in the game are fully textured 3-D models - everything can be seen from every angle, providing a realism never before experienced in a spaceflight combat game.

FREAK BOY
Virgin Interactive Entertainment

Created using SGI workstations, Freak Boy utilizes the Nintendo 64's advanced 3-D technology, allowing all aspects of the game to be experienced in 3-D. Not only are the characters presented in realistic full 3-D, but their worlds and interactions with other beings are amazingly multi-dimensional. The 3-D power of the Nintendo 64 also gives players the ability to experience gameplay from thousands of different points-of-view. The result is a unique visual experience that intensifies the gameplay to such a degree that even the most experienced game player will be challenged. Players will be drawn into the intense 3-D action as they assume the role of Freak Boy, the lone survivor of a massive alien invasion. On New Year's Day, when the planets are aligned with the sun, the ZoS, an alien race from a parallel dimension, take over the Hedron Universe, extinguishing the sun and transporting all of the Hedrons to the alien dimension. The only Hedron to evade capture is Freak Boy, who is destined to become the hero of his people, provided he can rid his universe of the alien threat and return the captive Hedrons to their rightful dimension. As Freak Boy, players can absorb remnants of the destruction into their body and utilize them as weapons to destroy the alien invaders. What's more, the variations on these weapons are almost endless. Capable of holding three new artifacts at a time, each with a different capability when used as head, chest or feet, Freak Boy is never the same character twice. Freak Boy's body is constantly morphing as new artifacts are assimilated and old ones are discarded. In managing the inventory of weapons as they enter and exit Freak Boy's body, the player gains new abilities in his fight to destroy the more than 50 enemies who have set out to conquer the Hedron universe. On their quest for more powerful weapons and the alien enemy, players will explore more than 25 distinct worlds throughout five levels of difficulty. Each world is radically visual, arid and stark, yet with texture, mystery and entertainment that lure the player further into the world of Freak Boy.

WAYNE GRETZKY HOCKEY
Time Warner Interactive/ Williams Entertainment

Hockey legend Wayne Gretzky will be immortalized on the world's most powerful video game system in the exclusive hockey game from Williams Entertainment -- Wayne Gretzky Hockey. The 3-on-3 plus goalie game features every player from the National Hockey Players Association.

MORTAL KOMBAT 64
Williams Entertainment

Mortal Kombat 64 is the first 64-bit version of Mortal Kombat ever for the Nintendo 64. The madness and mayhem of the Mortal Kombat universes collide with the release of Mortal Kombat 64 for the Nintendo 64. This new title unite the worlds of Mortal Kombat, Mortal Kombat 2, Mortal Kombat 3 and Ultimate Mortal Kombat 3 for the definitive, "end-all be-all" Mortal Kombat battle for supremacy - to date. For the first time ever, players will have the opportunity to simultaneously face-off against any one of their all-favorite Mortal Kombat "kombattants", including Rayden, Baraka, Scorpion and Classic Subzero, on any of the battlegrounds found in previous Mortal Kombat episodes, such as the Living Forest, Deadpool, Subway or Soul Chamber.
---
NEW NINTENDO 64 THIRD-PARTY ANNOUNCEMENTS
NBA HANGTIME
Williams Entertainment
NBA Hang Time, Williams Entertainment's first NBA-licensed basketball home video game, delivers an unparalleled "high-flying" game playing experience that captures the essence, energy and excitement of a live NBA game. This mind-blowing basketball challenge features "life-like" players from all 29 NBA teams with ultra-realistic movement capabilities in total non-stop, 2-on-2 full-court action. NBA Hang Time lets players "shake and bake" with spectacular spin moves, set themselves "on fire" as players become unstoppable from beyond the three-point arc, and go-up for "rim-rocking" slam dunks, "acrobatic" alley-oops, "death-defying" double dunks, and ferocious fadeaways! NBA Hang Time also boasts over 900 secret power-up codes, new hidden characters, the option to choose to play on various courts, and the most sophisticated "Create-a-Player" option ever designed, as well as up-to-date '96-'97 player rosters, which includes the latest rookies. The exciting new "Create-a-Player" option lets gamers custom-build their very own NBA Hang Time players with the physical appearance, including height, weight, face; and attributes, such as speed, shooting, dunking, passing, and defensive ability of their choice. NBA Hang Time also showcases the voice of NBA Chicago Bulls announcer Neil Funk calling the play-by-play throughout each game. His commentary, which is enhanced by the phenomenal DCS Sound System, will give gamers an experience that simulates the sounds, excitement, and super-charged atmosphere of an NBA arena during game time.
ROBOTRON X
Williams Entertainment
An unbelievable 3-D adaptation of the successful early 80's arcade title Robotron:2084, Robotron X features 100 different levels of play, new bonus rounds and funky techno music. This new title brings home all of the excitement of the original and then some!
WAR GODS
Williams Entertainment
War Gods takes fighting games to a new dimension with a revolutionary new technology, Digital Skin, which explodes in never-seen-before, full 3-dimensional, ultra-realistic action. This mind-blowing new technology lets War Gods cast of battling deities run, jump, dodge, and/or launch lethal projectiles in nightmarish real-time, 3-D movement. War Gods is the first fighting game to allow a true 360 degrees range of motion which lets players decide when and where to position their characters for maximum assault effectiveness. War Gods also boasts chilling advances on all the traditional fighting game elements that true gamers thrive upon. This blood curdling new game features secret characters, deadly moves and devestating combinations, which coupled with countless new running attacks, teleports, projectiles and gruesome fatalities make all other previous fighting games seem like child's play. Digital Skin technology has allowed the creators the ability to overcome many limitations that previous fighting games were confined to. War Gods fuses real human images and their fast and furious fighting action with breakthrough 3-dimensional movement. The state-of-the-art graphics and gameplay of War Gods reach such an extraordinary level of realism that gamers will experience what it truly feels like when heaven and earth collide in an all-out battle for power. The War Gods focuses on an immortal quest through time and space as ten omnipotent War Gods engage in battle for a precious ore. The ore is the source of their celestial powers and the catalyst that transformed these former human beings into the ten almighty War Gods. The gods intense obsession for the ore causes the deities to engage in violent warfare and even battles to the death to obtain it.
SILICON VALLEY
BMG Entertainment
ULTRA COMBAT
GT Interactive
ULTRA DESCENT
Interplay Productions
---
NINTENDO 64 TECHNICAL SPECIFICATIONS
CPU: 64-bit RISC CPU; clock speed of 93.75 MHz

MEMORY: RAMBUS D-RAM 36-Mbit; maximum transmission speed of 4,500 Mbit/second

CO-PROCESSOR: SP (sound and graphics processor) and DP (pixel drawing processor) incorporated; clock speed of 62.5 MHz

RESOLUTION: 256x224 - 640x480 dots; flicker-free interlaced mode support

COLOR: 32-bit RGBA pixel color frame buffer support; 21-bit color video output

GRAPHICS PROCESSING FUNCTIONS:

Z Buffer
Anti-aliasing
Realistic texture mapping:


Tri-linear mip-map interpolation
Environment mapping
Perspective correction


DIMENSIONS: 10.23" x 7.48" x 2.87"

WEIGHT: 2.42 lbs

CONTROLLER: Truly revolutionary three-grip controller with analog joystick, allowing complete 360-degree precision character movement

MASS STORAGE UNIT: The 64DD is a 64MB, 3-3/4" magnetic disk drive (sold separately)
---
NINTENDO 64 CONTROLLER
The advanced Nintendo 64 controller unleashes an entirely new era of video games, providing precise motion within 3-D environments, the result of extensive research on a variety of different prototype controllers.

Unique Controller Features:
3-D Control Stick allows for unprecedented, 360-degree game movement. Subtlely allows characters to creep, walk, trot or sprint, in an auto racing simulation, acceleration and turning are life-like

Memory Pack is loaded into the controller to save a player's own game-play and controller customizations. Able to be removed and interchanged with other controllers, it becomes, in effect, a portable, personalized mini-system to play in conjunction with any Nintendo 64 unit.

Z Trigger Button located on the bottom of the controller, can be used for firing weapons, activating motions or even snapping a photograph in the game

C Button Unit used for several different game play functions including switches in camera perspective, character positioning and combo moves in fighting games. In a 3-D world, characters can be lost behind objects. By switching the camera perspective horizontally, vertically, or by zooming in or out, visual contact is altered to improve game-play action and control. Buttons can also be used to position characters, e.g., fielders in a baseball game Colored Controllers available as accessories in yellow, green, blue, red, grey and black to further personalize game play. (MSRP: $29.95)

Four Player Capability is built directly into Nintendo 64 unit with four front-mounted controller ports
Controller Positionaing: Nintendo 64 controller is shaped with three seperate grips, allowing three different hand positions:
Right Position (center and right grips): makes the most out of the 3-D stick -- best for holdings 3-D action, racing and fighting games

Left Position (center and left grips): allows control of the 3-D stick and Z Trigger Button with the right hand and the control pad with the left. Best for explosive action games like Blast Corps

Super NES Position (two outside grips): the traditional position for total control of side scrolling action games, action puzzle games and Role Playing Games
---
NINTENDO 64 64DD
A high-speed, mass-volume memory magnetic disk drive for use with Nintendo 64

Drive attaches to the bottom of the Nintendo 64 console with 3-3/4" magnetic disks front-loaded into the unit
High-density magnetic disks hold 64MB of data -- approximately 16 times the data contained in the Super NES game Donkey Kong Country (4MB)


For the first time ever, players will be able to write data to game software

Players can customize and save characters and games

Unparalleled data access

150 milliseconds Average Seek Time (AST), the amount of time it takes the device to find the particular data
1 MB/s Data Transfer Rate (DTR), the rate at which data is transferred from source medium to internal memory


Includes a 1 or 2MB expansion RAM pack, which players install into the unique memory expansion slot of the Nintendo 64 to further enhance the memory capacity of both the magnetic disks and the cartridges.
All company and/or product names are trademarks and/or registered trademarks of their respective companies.
Copyright © 1996 Coming Soon Magazine! All Rights Reserved.