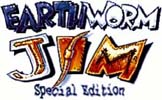 by
Activision
Console owners look out! The PC is quickly catching up to cause companies the like of Nintendo and Sega to be on their guard. "Earthworm Jim" the extremely popular game on the consoles has been converted to the PC.

The company responsible for this masterful menagerie of menacing maniacal mayhem is the newly revived Activision. Making a steady comeback, Activision has just wowed the gaming community with "Spycraft: The Great Game". Now with "Earthworm Jim", Activision is again setting the standard for others to follow.

As stated in the manual, Earthworm Jim wasn't always a studly super-worm. He was once just a spineless, dirt-eater with no real mission in life. Then a cosmic twist of fate placed him in control of an ultra-high-tech -indestructible-super-space-cyber-suit. Now Jim must make it to "Princess-What's her Name" by staying clear of Psy-Crow, the intergalactic bounty hunter, until the final battle with "Queen Slug-for-a-Butt".

Using the same engine as "Pitfall the Mayan adventure" running under Windows 95, you can choose to play either in a window or full screen. It has to be said that the game engine is very powerful and "Earthworm Jim" will run ultra smooth on a Pentium 100Mhz at a resolution of 1024 by 768 in 256 colors. Quite a first for the PC world! Now you can show it off to your console friends and "brag"!

The graphics in "Earthworm Jim" are spectacular with Jim's animation brilliantly rendered. The introduction for the game has Jim belching, being "purged" from his suit, scratching and many other entertaining feats all at a glorious 20 frames per second with 256 colors.

Of note, even more impressive than the animation is the use of parallax scrolling in "Earthworm Jim". For those wondering, parallax is the process of scrolling multiple planes to give the impression of deeper 3D. To explain further, whilst the foreground is moving at a fast speed, another level behind scrolls at a slower speed. Besides looking fantastic, the use of three or four different planes can give a very impressive 3D effect.

The game play in Earthworm Jim is basically identical to that in "Pitfall: The Mayan Adventure", or any other horizontally scrolling platform game for that matter. From the initial start, the player must move Jim to the exit. Opposed by Crows (Who will grab onto Jim and violently try to yank him from the suit), Dogs and other natural predators of earthworms, Jim can jump over and run, use his Plasma Gun to waste them or whip his enemies into submission with his own invertebrate body. The standard power-ups are included - health, bullets, new weapons, with the newest weapon being the Homing Rocket, a new addition not found in the console versions.

Other obstacles come in the form of chasms to be crossed, cows to be launched and bungee cords to thrust himself from. The enemies found at the end of levels are uniquely and humorously varied including the insane Major Mucus, Evil the Cat, Psy Crow, Bo the Goldfish, and Professor Monkey for a head.

Featuring over twenty levels from "New Junk City" to "Snot a Problem" plus one new bonus level not included in the console version, there is enough to keep any gamer going for a while. The levels are well paced with the first being easy, and the subsequent levels getting respectfully harder.
Conclusion:
"Earthworm Jim" is a graphically pleasing, extremely entertaining platform game. With the game play just right, (Not too hard, not too easy) it has you coming back constantly for more. Once you complete a level, you don't have to re-do it and can simply start from the last uncompleted level.

With so very few of the games in this genre for the PC, "Earthworm Jim" is an excellent first taste for the "unwashed".

Written by Jere Lawrence
Ratings:
Graphics:
90%
Sound:
80%
Music:
85%
Gameplay:
93%
Interest:
93%
Overall:
89%
Click here for screen shots.
System Requirements:
486 DX-33 MHz or higher,
Min 8MB memory,
Hard disk,
Double speed CD-ROM drive or faster,
256-color SVGA video graphic card (VESA Local Bus or PCI recommended),
Microsoft mouse or 100% compatibles.

Most popular sound cards supported.
Developers
Activision,
11601 Wilshire Boulevard, Suite 100,
Los Angeles, CA 90025
| | |
| --- | --- |
| Technical Support: | 310-479-5644 |
| Fax Support: | 310-479-7355 |
| BBS Support: | 310-479-1335 |
| | |
| --- | --- |
| Hint line: | 1-900-680-HINT (USA) |
| | 1-900-451-4849 (Canada) |
| | |
| --- | --- |
| Order line: | 1-800-782-7927 (USA) |
| | 1-800-828-7927 (Canada) |
Web site: Activision
Email address: Activision
Publishers
In North America:
See Developers.
In Europe:
In UK:
Activision Europe Ltd.,
Long Island House, Suite 3A,
1/4 Warple Way,
London W3 0RQ.
Technical Support: +44-(0)990-143-525
In France:
Ubi Soft
28, rue Armand Carrel
93108 Montreuil sous Bois Cedex
Web site: Ubi Soft
In Australia and Pacific Rim:
Activision Australia,
P.O. Box 873,
Epping, NSW 2121.
Technical Support: +61-2-869-0955
Copyright © 1996 Coming Soon Magazine, Inc. All Rights Reserved.
Reproduction in whole or in part, in any form or medium without express written permission of Coming Soon Magazine is prohibited.