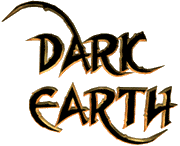 Concept
Dark Earth is a 3D adventure/action game set in a truly original universe with top-quality graphics and unique gameplay. The game will introduce the Dark Earth universe and will be the first of a series of games set in the world of Dark Earth. The player will discover and explore places of stunning beauty and overwhelming strangeness, inhabited by real time animated super-detailed 3D characters.

Dark Earth features high-resolution computer-generated images using 3D Studio and Softimage. The graphical interface is extremely easy to learn and use and the player can direct each and every step of the game main character. The adventure is played out in the universe of Dark Earth, specially developed to provide the player with a truly original and totally cohesive world full of mystery and danger.
Game
Dark Earth's world is made of a whole city to explore with over fifty locations and more than 400 different camera angles. There are over 80 realistic 3D characters and creatures animated in real-time with 3,500 animations. The easy and intuitive interface allows a complete freedom of action in this new and original universe, replete with though provoking theme and incredible graphic style. Other features include a non linear story evolving with player's choices, and real time combats with multiple difficulty settings.
Graphics
The games uses the SVGA definition (640 by 480) with 256 colors, and full screen cinematic sequences in 32,000 colors. The highly detailed 3D backgrounds were created with Softimage and 3D Studio. Among other graphic specifications, there are the interactive light source and texture management, including real-time texture mapping, light sourcing and gouraud shading. Additionally, the game also features a realistic shadow management.
Sound & Music
Besides the MIDI action-related atmospheric music, there are over 2 hours of spoken dialogue included in the game.

# # #

Dark Earth is developed by Kalisto Entertainment, and will be published by Microprose in November 1997.
All content Copyright © 1994, 1995, 1996, 1997 Coming Soon Magazine, Inc. All Rights reserved.